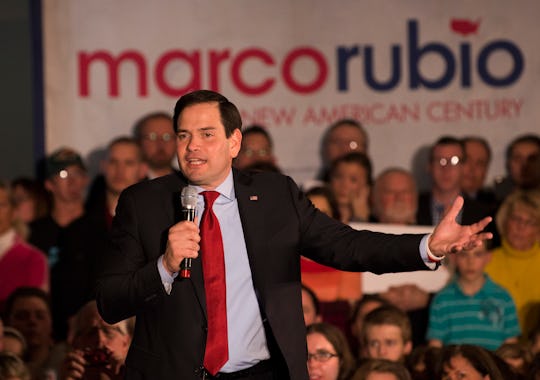 Stephen Maturen/Getty Images News/Getty Images
Marco Rubio's Super Tuesday Speech In Florida Launched An Attack On Trump That's Too Late
Things just keep looking worse and worse for Florida Sen. Marco Rubio. He didn't finish first in any of the first caucuses or primaries, and he wasn't polling with any strength prior to Super Tuesday. He went on the attack against Donald Trump during the last Republican debate, which may have made him seem weaker to voters. Not surprisingly, Rubio didn't do well in Super Tuesday — he didn't win any of the 12 states or one district that voted that night. Rubio's Super Tuesday speech sounded nice, but they were empty words and attacks at Trump that came way too late.
Prior to Super Tuesday, Rubio had only 16 delegates. But that actually wasn't bad at all, because Texas Sen. Ted Cruz had just 17. Trump was way ahead of them both with 82 delegates, according to the Associated Press. And Rubio started letting his desperation get to him. At the Republican debate last week, The Chicago Tribune reported that he made a number of low blows against Trump. He characterized Trump as someone who built the Trump Tower with immigrant labor and repeated the same lines about how Trump doesn't know anything about the government. Granted, both of these things are likely true, but Republican voters across the country don't care, and stooping down to Trump's level by not discussing the issues wasn't going to suddenly make them care about a serious candidate, according to the Tribune.
So, on Tuesday, Rubio's polling numbers weren't much of a surprise. He said a lot of nice things when he was speaking from his home state (which he didn't win), but there was definitely something last resort-y about the general statements he made. His best statement of the night, referencing Trump, was: "The party of Lincoln and Reagan and the presidency of the United States will never be held by a con artist."
Here in this community, we have all been shaped and raised by people who know how special America is because they know what life is like outside of America. Thank god they found this great country. In this country, everyone can go as far as their talent and their work can take them.
We know the things that make American special are not an accident. They happened because for over the course of 200 years, when people did what they had to do to make their children better off then they were themselves.
... We believe america is a better place when it's the strongest country on earth, and when it stands with its allies — allies like Israel. We will always be on their side. We stand for Cuba, Venezuela, and Nicaragua. And these things are not negotiable. But some people are not as strong on these issues. When Trump was asked about whether he would side with Israel, he said he's not taking sides — he wants to be impartial. When I'm president of the United States, we are taking sides — we are on Israel's side.
Rubio's comments were nice, but they were all over the place. They didn't stay on any specific issue, and they were super specific to Florida voters, who weren't even voting.
At least he got in one kind of funny (but also low) blow against Trump on Sunday. He acknowledged that Trump called him "Little Rubio," and said, "[Trump]'s like 6'2, which is why I don't understand why his hands are the size of someone who's 5'2."
He also added, "You know what they say about men with small hands." He paused. "You can't trust them." Yep. Rubio made a penis joke on a Sunday at a rally in Roanoke, Virginia. The desperation was real, and it was too apparent, even if the joke was actually pretty good.