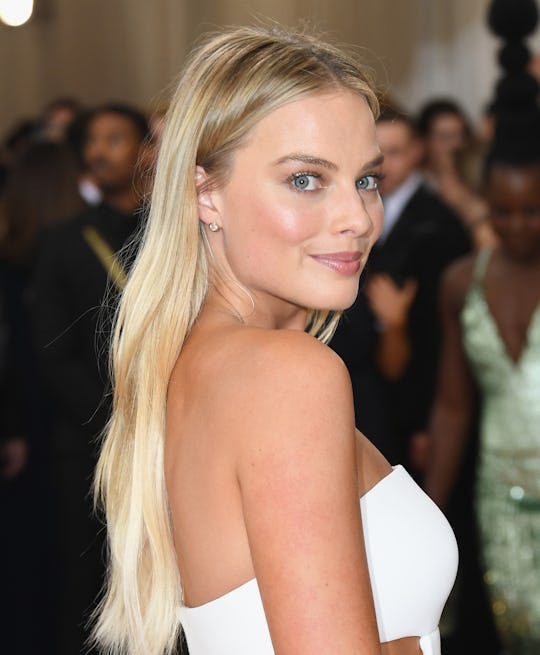 Larry Busacca/Getty Images Entertainment/Getty Images
Margot Robbie's Harley Quinn Movie Is Huge News For Fans Everywhere
Suicide Squad doesn't even come out until August and already Margot Robbie is thinking long term. On Monday, The Hollywood Reporter claimed that Robbie was in talks to produce a Harley Quinn movie — and of course, the Internet and comic book fans alike are totally freaking out. By itself, Suicide Squad (which stars Jared Leto as Joker, Will Smith as Deadshot, and Cara Delavigne as Enchantress), was slated to be the event of the summer, but with talk of a new Harley Quinn movie hitting headlines, the film is likely going to be an even bigger deal.
According to The Hollywood Reporter, the standalone movie will focus on the female heroes and villains that most comic book movies end to ignore. Which is possibly even better news than an all-female Ghostbusters.
But it's not just the characters that are at the center of the Warner Brothers produced film. According to the report, Robbie will have a producer credit and was the "impetus for the project." As soon as she was cast, she reportedly fell in love with Harley Quinn, got a fellow writer on board, and brought the whole package to the studio to pitch. If that's not "leaning in" an infamously male-centric industry, then what is? Details about the film are being reportedly being "closely guarded," but could potentially include such DC characters as Batgirl, Katana (played by Karen Fukuhara in Suicide Squad), and Poison Ivy.
Harley Quinn has long been a fan favorite and as soon as news broke, many of those same fans took to Twitter to celebrate. "Harley Quinn movie hashtag blessed," summed up most of the sentiment, although there were some haters wondering why the focus should be Harley and not other favorite, female comic characters. One person wondered why 20th Century Fox was being so "lazy" about getting Storm, a Marvel's X-Men character her own movie.
Maybe that's because Margot Robbie took over and decided to write her very own script for the character. What's that old saying, again? If you want something done right, do it yourself? Cheers to Robbie for making it work.
Already imaginations are running wild about all the possibilities for the spin-off. Obviously, many are crossing their fingers for some live-action Harley/Poison Ivy love:
The two characters already have a thing going on in the comic series, so it would make sense that an all-female villain and hero film would feature the two teaming up in more ways than one. No matter who they cast as Poison Ivy, (just please don't be Uma Thurman this time around) I'm not going to pretend I wouldn't be pre-ordering tickets to that.
But let's not get ahead of ourselves here. Not only is there going to be a Harley Quinn movie, it's going to focus on women, and Margot Robbie is going to make it happen. An actual on-screen romance between two women that wasn't just for male audiences would be a good way for major studio executives to see that flicks like this can actually make them money.
If this thing does get made — remember it's still "in the works"— and is made well, it's likely going to be a huge hit. Let's just hope the women get just as much as cash for the roles as they would've given to Batman himself, amirite?