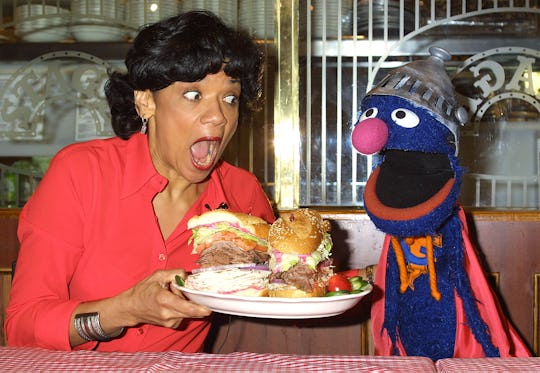 George De Sota/Getty Images Entertainment/Getty Images
Maria From Sesame Street's Lifetime Achievement Award Has Given Us All Some Serious Feels
Remember Sesame Street? Um, how could you forget? It was the one TV show that I (and so many other children out there) used to look forward to tuning into every day while growing up. From Big Bird, to the Cookie Monster, to Bert and Ernie, every character was lovely and just as fun to watch on TV and really made learning a special experience — and that's why Maria from Sesame Street's lifetime achievement award, announced this week, has given us all some serious feels.
You know the lyric to that all-too-familiar tune. "Sunny day, sweeping the clouds away, on my way to where the air is sweet. Can you tell me how to get, how to get to —" I don't even need to finish that sentence because I know it has already come back.
What might come back to you too, is Maria, the iconic Sesame Street character that almost every PBS kid remembers fondly. Maria first appeared on the TV show in 1971, when she was in her early 20s. Maria grew up on the show, got married, and guided the Sesame Street group through a series of life lessons — both big and small. Maria, played by actress Sonia Manzano, finally left the street in 2015 after 45 years of dedicated work, and parents and children everywhere shed a nostalgic tear. Manzano's time on the show, both as an actress and writer, garnered her 15 Emmy Awards. Now, Manzano will yet another prestigious award to add to her shelf.
According to a Deadline report this week, Manzano is set to receive the Emmy Award for Lifetime Achievement at the National Academy of Television Arts and Sciences' 43rd annual Daytime Emmys on May 1 — and aside from being a pretty amazing achievement, it's also given everyone everywhere a reason to start reminiscing about their childhood.
Manzano as Maria played an influential role into thousands of children's lives. She was the one familiar face we saw when we turned on the screen, the person we identified with when we weren't feeling grouchy like Oscar the Grouch. Many parents have grown up with Maria and watched their children grow up with her too.
"Grown people who were raised on the show recognize me more [than the children do]," Manzano told Entertainment Weekly in July. "I love when they recognize me, but it does upset me when they start to cry, which happens a lot." Watching people's emotional reactions may make Manzano teary, but it's just another testament to how much Maria meant to those of us who grew up with her — and of how proud everyone will be when she receives her lifetime achievement award on May 1.