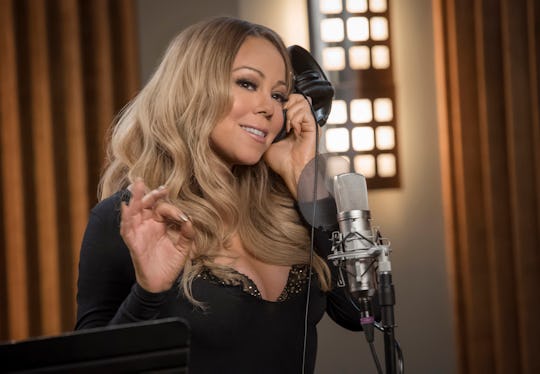 Chuck Hodes/FOX
Mariah Carey Appeared On 'Empire' & Twitter Seriously Freaked Out
This season of Empire is not holding back on the drama – or the guest appearances. Last week, Biz Markie serenaded Lucious and Cookie; on this week's episode, the queen Mariah Carey graced our screens. Unlike Markie, she is playing a character, but she is nonetheless as fabulous as Carey herself. Of course, Empire's fans were immediately abuzz once she came on screen. Mariah Carey appeared on Empire and Twitter seriously freaked out.
Carey's appearance in itself is not a surprise; it was actually hinted at around a year ago. According to E! News, the iconic singer was originally supposed to have an appearance last season. At the time, Jussie Smollett – who plays Jamal – was ecstatic about the prospect. He actually thought it was a longtime coming. "I keep saying, and I hope they can make this happen," he told E!, "because she's one of Lee [Daniel, the creator of Empire]'s closest friends, I really want to see Mariah Carey on the show."
While it may be a little late, Carey's cameo is worth the wait. She plays Kitty (a fitting name for the Hello Kitty enthusiast), a superstar Cookie brings in to work with Jamal. She Tweeted out a sneak peek several days before Wednesday's episode:
At first, though, Jamal is hesitant about the collaboration due to his PTSD about performing for a crowd. While Jamal wasn't that enthused, Empire fans certainly were. As soon as Carey appeared, Twitter blew up with comments:
Mimi's first scene was pretty short, but we knew she was just getting started. Her character, Kitty, is clearly just a fictionalized version of herself – down to the amazing, if impractical, bodysuit outfit. We don't mind at all, though, as she performs with Jamal in the studio. Not only do the two sound amazing together, but Kitty is determine to help him with his PTSD. As the two sang in the studio, Jamal clearly became more comfortable in his element again.
According to E!, this is Carey's first major television appearance – apart from a few episodes of Real Husbands of Hollywood, American Dad, and one episode of Ally McBeal way back when. Of course, Carey is gearing up for her own reality show, Mariah's World, which is set to be a different kind of amazing. While we'll have to wait until December to enter her world, for now we can enjoy the glory of her Empire cameo.