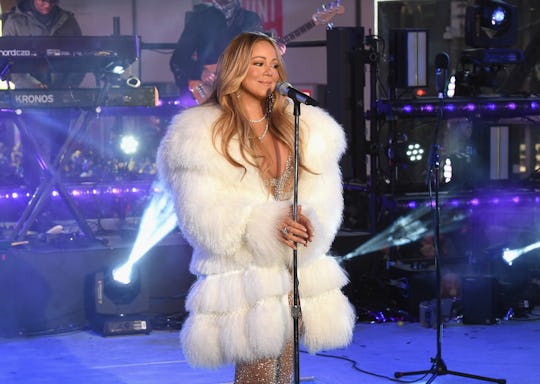 Nicholas Hunt/Getty Images Entertainment/Getty Images
Mariah Carey Asked For Tea During Her NYE Performance & Twitter Is Having A Field Day
Mariah Carey triumphantly redeemed herself last night with two fantastic live performances during Dick Clark's New Year's Rockin' Eve. Despite the frigid temperatures in Times Square, (coupled with the singer's revealing outfit, which left her bare skin open to the elements — brrr!) Carey delivered flawless renditions of "Vision of Love" and "Hero." However, once again, the star's singing isn't what's flooding social media on Jan. 1. That's because Mariah Carey asked for tea during her New Year's Eve Performance, and Twitter is having a field day.
Us Weekly reported the buzz today is all about what Carey said in between her two songs. "Just want to take a sip of tea if they'll let me," she said into the microphone, after finishing "Vision of Love." Except, there was no tea. "They told me there would be tea! Oh, it's a disaster! Okay, well, we'll just have to rough it. I'm just going to be like everybody else with no hot tea." Spoiler alert: She never did get her hot tea while on stage. However, Carey still went on and slayed her second song. Now, Twitter can't seem to stop talking about the singer's perseverance, despite her lack of a hot beverage to warm her up.
A few Twitter users were quick to jump in and defend the singer's apparent need for a hot beverage while on stage. One person tweeted, "Mariah Carey singing on ... without her hot tea. Guys it's ridiculous cold out. I can't hardly talk when it's that cold let along sing."
However, most took Carey's awkward hot tea moment as an opportunity to hilariously troll her instead. "The first time life throws you a curve in 2018 just remember: Mariah Carey made it through without her hot tea. You can make it through too. "If Mariah Carey can make it through that performance without her hot tea, then I can make it through another year," another Twitter user declared.
It seems Carey caught on to all of the hot tea jokes swirling on Twitter and decided to poke fun at herself. (Either that, or she was totally oblivious and just wanted to sneak in another social media post of herself in that glamorous outfit. And who could blame her?) As People reported, the singer posted a photo of herself cozily drinking from a mug. "Found my tea!" she proclaimed at 2:38 a.m. on New Years Day.
Even "President Trump" (a parody account) chimed into the conversation with, "Very nice Mariah. Don't burn your lips."
The difference from Dec. 31, 2016 to Dec. 31, 2017 was like night and day. Previously, Carey had fumbled her way through three painfully awkward songs because of technical difficulties with sound. People reported the singer couldn't hear the backup vocals in her earpiece, or really much of anything, it seemed at the time. Although she remained on stage dancing here and there, she Carey mostly made comments like, "Well, Happy New Year! We can't hear, but I'll just get through the moment," and "I want a holiday, too. Can I not have one? I'm trying to be a good sport here."
After the performance, Carey took to Twitter to shrug it off. "S*** happens," she tweeted. "Have a happy and healthy new year everybody! Here's to making more headlines in 2017."
Hot tea aside, it's hard to deny that Carey totally rocked her New Year's Eve performance this year. Although I was initially shocked that she was booked again to help ring in the new year — after the on-stage train wreck that unfolded last year — I'm actually glad Carey had the opportunity to redeem herself. And that she did. Now someone make sure that woman has some hot tea!