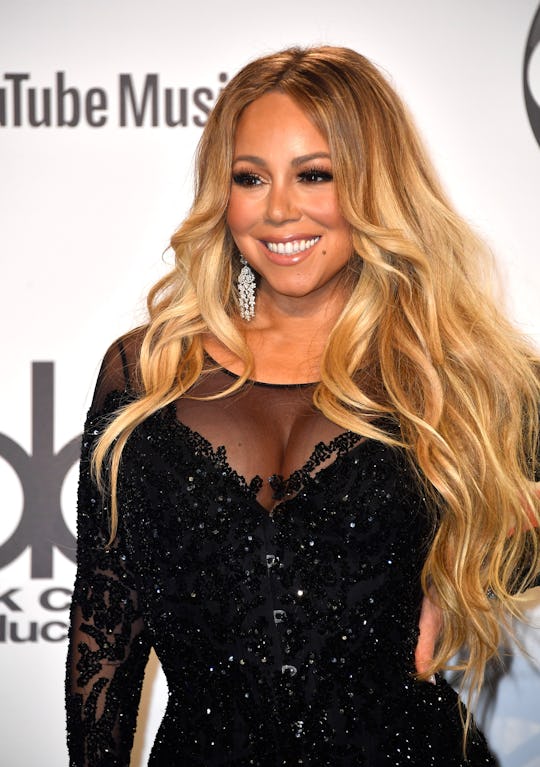 Frazer Harrison/Getty Images Entertainment/Getty Images
Drop Everything & Watch Mariah Carey's Kids Sing "All I Want For Christmas Is You"
There are some things that just scream holiday cheer... or in this case, belt it in four octaves. Many people look forward to seasonal beverages at their favorite coffee shop, cheesy made-for-TV movies that nobody can deny they love, or booking a trip to go home and visit family again. But amongst all the things in the world that epitomize the holiday season, Mariah Carey and her kids singing her holiday hit "All I Want For Christmas Is You" in this video truly takes the cake.
In preparation for what we an only assume is one of their unbelievably festive family holidays, Carey and her kids, Moroccan and Monroe, took some time during a car ride to practice their vocals on their mom's hit song, which turned 20 years old back in 2014. (As an aside: who among us hasn't belted that song in the car at least once?)
The video starts with Carey hyping her 7-year-old twins, who she shares with her ex-husband Nick Cannon, up to start the song, which it is pretty clear they have already practiced. While Monroe bops along to the melody, Moroccan is coached by Carey to sing a lot of the backup vocals, including a lot of the "oohs" and "aaaahhhs" that make the song so amazing. The video concludes with the trio hitting the last "all I want for Christmas... is you!" line, and pointing at the camera.
There's also a dab thrown in there somewhere, because of course.
On Instagram, fans and followers have already begun outpouring their love for the video, and how great Mariah is as a mom.
"Roc & Roe have been practicing the background vocals to 'All I Want For Christmas Is You,' we're gonna take this one step at a time — we're very excited about it! It's our first video doing this! It's festive, Cmon!!," Mariah wrote in the caption.
"Oh my gosh this is so cute!! Great memories for your babies!! As a mom I love to see this!! Keep being an inspiration," read one fan response. "I keep unliking this just so I can press the like button again," said another.
Earlier this year, Carey opened up about what Christmas is like at her home, confirming that it is precisely as glamorous as one would imagine. In an interview with Sirius XM's Heart & Soul, People reported that Carey opened up about how she spares no expense during the holidays.
"I should have a Christmas budget," she said during the interview. "People don't realize how much it costs to go and do the whole Christmas experience, the extravaganza that I do, darling... The real reindeer are actually there. Now people think I'm making this up, but it's true. I have real reindeer that come to my house. Yes, darling. I don't play around."
In the same interview, Carey opened up about how much she enjoys the holidays, and how it's something she looks forward to sharing with her kids all year long:
All year long I just wait and I look forward to cooking and just like decorating the Christmas tree... I have a few different Christmas trees, and we decorate some of them and some of them there's a lady that helps us with that, and then there's one that the kids and I do together with my extended family and friends.
Though there are undoubtedly many aspects of the Carey-Cannon lifestyle to which none of us could fathomably relate, that may very well be one of them. It's clear that, international pop star status aside, Carey is just like the rest of us: getting ready to indulge in the holiday season, singing with her kids in the car, and knowing a Christmas classic when she hears one.
This first-time mom wants to have a home birth, but is she ready? Watch how a doula supports a military mom who's determined to have a home birth in Episode One of Romper's Doula Diaries, Season Two, below. Visit Bustle Digital Group's YouTube page for the next three episodes, launching every Monday starting November 26.