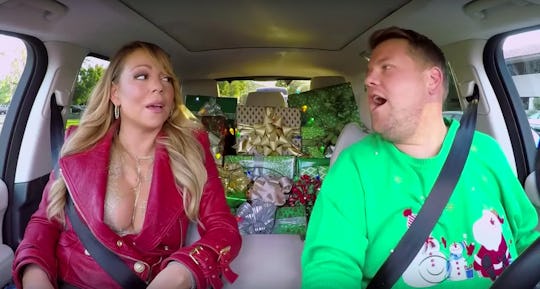 Mariah Carey Joins Carpool Karaoke For A Special Holiday Edition — VIDEOS
Remember Mariah Carey in her 1994 music video "All I Want For Christmas?" You know, the one where she's strutting around in a giant red snowsuit. Well, last night the "We Belong Together" singer was dressed a lot more modern when she accompanied James Corden on The Late Late Show for some Christmas shopping. With a Christmas tree in tow, and presents in the backseat, the two burst into her classic hit while driving. The footage then cut to other celebrities singing the song during their carpools, giving Mariah Carey song lovers everywhere some revamped "All I Want For Christmas" holiday fun.
Corden must have had this montage planned since January as Adele, Elton John, Lady Gaga, Chris Martin, Selena Gomez, Gwen Stefani, Nick Jonas, Demi Lovato, and the Red Hot Chili Peppers all took on the festive high notes of the iconic singer throughout the year. And even though all of these artists might not have gone full falsetto, they got more into the song than the original singer herself. Lovato danced around, the Red Hot Chili Peppers clapped along, and Lady Gaga's finger snaps were enthusiastically in time.
James Corden did the same type of video last year with the song "Joy To The World." He rocked out the song with a Christmas hat, but definitely stepped his Christmas game up this year with the fan-favorite song selection, decorated gifts, and bright green sweater. Last year, One Direction, Stevie Wonder, Iggy Azalea, Rod Stewart, Carrie Underwood, Jason Derulo and Justin Bieber all participated in the passenger seat.
This year, Corden was the most heartfelt of all of the people who have come and gone in his vehicle. The host sang the song each time as if it were his first. He gleefully slapped his steering wheel, and made playful hand motions. In the video it's Carey who says she wants Corden to sing her song, but it's clearly him who wants to sing it, because he's done it time and time again throughout the year. It's just as fun to watch his movements as it is to sing along to the memorable song yourself. Corden's Carpool Karaoke has become a holiday tradition, and I can't wait to hear what song he picks next year!