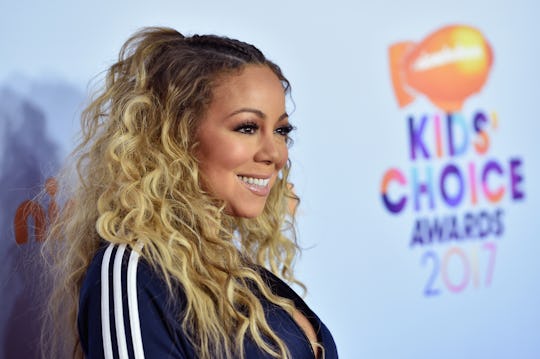 Alberto E. Rodriguez/Getty Images Entertainment/Getty Images
"All I Want For Christmas Is You" Is Becoming A Movie!
Mariah Carey's "All I Want For Christmas Is You" is a modern Christmas classic; the holiday season doesn't really begin until you've resisted the urge to belt the lyrics to that song in the middle of a store while it pipes over the sound system. It's basically aural perfection, but now the singer is taking things one step further: Mariah Carey's "All I Want for Christmas Is You" will be an animated movie, which might be totally random but is also sure to get you in the holiday spirit. Even if the announcement is coming in March.
Carey shared the news on Instagram while lounging on a pristine white couch in plaid pajamas with a puppy in her arms and a fire gently crackling in the background – you know, a normal day. "I am thrilled to be able to bring the story of my favorite Christmas song to new generations of families with my upcoming new animated movie, Mariah Carey's All I Want for Christmas Is You," she wrote in the video's caption. "You're the first to hear about this exciting news!"
The teaser doesn't offer much about the movie itself, but does provide a general release date. Carey's new animated movie will be arriving just in time for the holidays this year, on DVD, Blu-ray, and On Demand. That way you can watch it in your own plaid pajamas in front of your own crackling fire.
The plot of the animated film seems to take its inspiration from the children's book of the same title Carey published with co-author Colleen Madden a few years ago – you can even spot it propped up right beside Carey on the couch. The film will be about a little girl (based on Carey but voiced by Breanna Yde) who wants a puppy named Princess for Christmas, but first must look after a badly behaved pup named Jack who "turns Mariah and her family's Christmas preparations upside down in hilarious ways." A romantic Christmas song turned into an animated film about wacky dog hijinks? Sounds ideal.
In a press release for the animated film, general manager and executive vice president of Universal 1440 Entertainment (who are producing the film) Glenn Ross promised, "Like the song itself, Mariah Carey's All I Want for Christmas Is You is destined to become an enduring family holiday classic. It is packed with family fun, holiday spirit, poignant moments – and, of course, Mariah Carey!"
And really, what more do you need for a perfect Christmas?