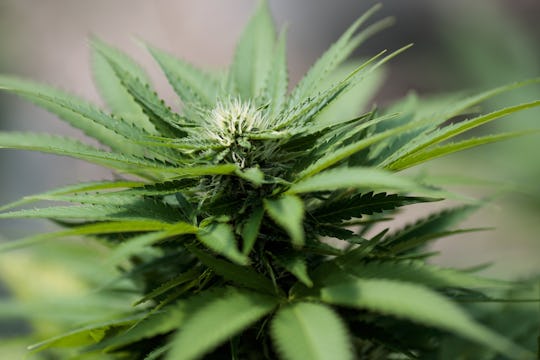 Drew Angerer/Getty Images News/Getty Images
Marijuana Compound Offers Hope For Kids With Epilepsy
For patients with a rare, debilitating, and life-threatening form a epilepsy, regular epilepsy medications often offer little reprieve from the intense seizures that frequently rock their bodies. That's one of the reasons why researchers are so heartened by the results of a study indicating that a marijuana chemical helps prevent seizures in kids with epilepsy. Apart from having the potential to change the lives of kids who suffer from Dravet syndrome, this discovery helps to confirm what some medical professionals and others have long believed to be true about the potentially healing effects of marijuana.
"We now have solid, rigorous scientific evidence that in this specific syndrome, cannabidiol is effective at reducing seizures," Dr. Orrin Devinsky, a neurologist at New York University Langone Medical Center and an author of the new study, said in response to the publication of the results in the New England Journal of Medicine Wednesday, according to STAT News.
And the CBD certainly did reduce seizures in the 2- to 18-year-olds who took is as part in the randomized, double-blind, placebo-controlled human trial —  a form of research widely considered to be the gold standard. According to Quartz, the participants of the 120-person study who took the CBD experienced a reduction in the number of seizures they had per month from about 12 to about 6; seizure instances in those who were administered a placebo had about 14 each month both before and during the 14-week period.
According to the Epilepsy Foundation, somewhere between one in 40,000 and one in 20,000 people suffer from Dravet syndrome, which presents itself in otherwise healthy babies by the time they're a year old. Characterized by seizures, developmental delays, speech and language problems, behavioral issues, and movement and balance problems, this genetic disease claims the lives of up to 20 percent of those diagnosed with it by age 20, Devinsky told CNN. Those who do survive into adulthood generally are incapable of living on their own.
Undoubtedly, the CBD breakthrough is huge, but it's not without its drawbacks. Ninety-three percent of the study participants who took the CBD, and not the placebo, experienced side effects such as vomiting, fatigue, diarrhea, and even some liver issues. Eight of them even dropped out of the study for this reason. One the other hand, 5 percent of the participants had zero seizures throughout the study period, Live Science reported. Another bonus? Cannabidiol — which is generally taken in an oil form – does not produce a high in those who take it, as the main psychoactive chemical in marijuana, THC, does.
Right now, no drug approved specifically to treat Dravet syndrome exists. The study's findings are one step in the road to remedying that.
Readers should note that the regulations and data surrounding CBD are still developing. As such, the information contained in this post should not be construed as medical or legal advice. Always consult with your doctor before trying any substance or supplement.