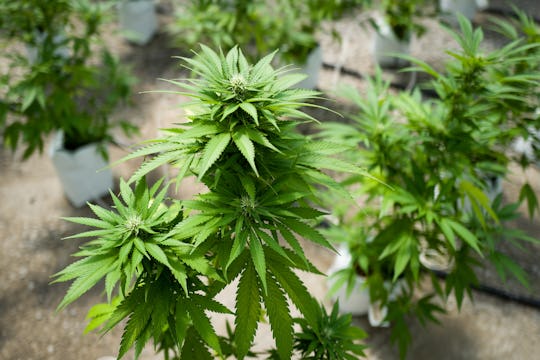 Drew Angerer/Getty Images News/Getty Images
Marijuana Plants Found At Connecticut Daycare Serve As An Important Reminder To Parents
Sending a child off to daycare can be pretty tough experience for parents. It's not easy to go without knowing how well kids will eat, who they'll become friends with, or if they'll be taken good care of. But most of these worries are eased with time, and they turn out to be no big deal. So imagine the shock some Connecticut parents felt when they found out their children's daycare center was also housing a pot farm. Yep, that's right. Police found 600 marijuana plants at a daycare Friday, according to the New Haven Register.
West Haven police spokesman Sgt. David Tammaro said in a release that state inspectors noticed tall wooden fences and a lock on the gate to the backyard during a property inspection. Inspectors left the daycare suspicious, called the police, and issued a violation to the daycare for denying access to the fenced area.
According to Fox News, police then arrived with a warrant to the home day care center and discovered approximately 600 plants. Each plant was between 6 and 10 feet tall. Together, they had a street value of more than $1 million.
The daycare has not been named by police or news outlets.
Tammaro said that housing inspectors shut down the day care center and revoked its license. No arrests have been made at the time of publication. But if the day care does not cease operations, it will be fined $100 per day, a spokeswoman for the Office of Early Childhood told NBC News.
"It's a shock to us all, and if you're running a day care, it's the last thing you should be doing," Greg Smith, a resident on the street of the day care, told the Register. "It's just not heard of on this street."
This isn't the first time this day care has violated housing standards, according to the Office of Early Childhood spokeswoman. Inspectors found minor violations in the spring during a routine inspection, which is what prompted the follow-up inspection Friday. It's unclear if the day care owners were made aware of the follow-up inspection beforehand, or why they thought it would be a good idea to turn their day care into an illegal operation after already having received violations.
Day care centers, in short, aren't very well regulated. Some states require day cares to get licenses, but many don't. And regardless of whether a day care has a license, it can operate without regular inspections or enforcement of regulations. Even when parents file complaints, a lack of communication among agencies makes it difficult to regulate or substantiate the allegations, according to a yearlong study by the Milwaukee Journal-Sentinel. Parents should always check the licenses and violations held by childcare providers before choosing a center.
Unfortunately, day cares have been used as covers for drug operations many times before. In March, WTAE reported that a Pittsburgh day care was the site of a heroin bust involving state and federal police. And in May and August, meth was found in day care centers in Arizona and Alabama. In the Arizona drug bust, police said the drugs were not very well hidden and could have been located by the kids at the day care, according to a local NBC News station in Scottsdale.
Relative to those cases, a few hundred marijuana plants don't sound so bad. After all, they were locked away behind a tall fence in the backyard. But that doesn't make it any less illegal, nor does it set a good example for the kids who may have found out about the illegal activities.