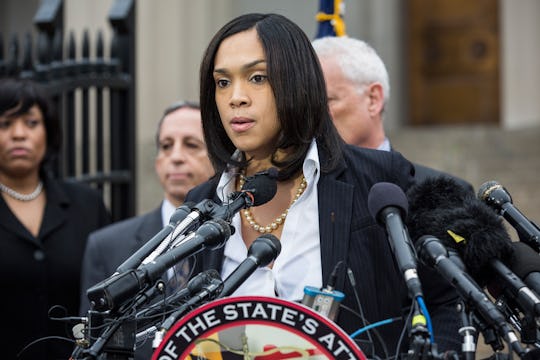 Andrew Burton/Getty Images News/Getty Images
Marilyn Mosby's Statement On Prince's Death & His Connection To The Freddie Gray Case
Prince's sudden death at the age of 57 shocked fans. His music touched the lives of so many people, but perhaps — at least in recent history — none more than the residents of Baltimore, where he hosted a peace rally in response to the death of Freddie Gray and the subsequent riots. Baltimore City State's Attorney, and prosecutor for the Gray case, Marilyn Mosby (who was welcomed on-stage by the iconic pop star at the rally last May), publicly mourned the loss this week. Mosby's statement on Prince's death praised the artist's music and his philanthropy.
"Prince was a legendary and prolific musician, actor, and humanitarian," she said Thursday, in a comment to CBS Baltimore affiliate WJZ. "I am deeply saddened to hear of his passing, but I am extremely grateful for the opportunity I had to meet him. My hearts and prayers are with his family and friends."
Prince was an enigmatic figure: an incredibly skilled musician, a sex symbol and, incongruously, a devoted Seventh-day Adventist. He once changed his name to an unpronounceable symbol that blended the male and female symbols. Enhancing his mystery, he became famously withdrawn from the world. An almost-recluse living on a massive estate in Minnesota. That all changed when he transformed into a healer hosting a peace rally in Baltimore in response to violent protests and riots.
Two weeks after Freddie Gray's death in police custody, Prince hosted a concert for Baltimore, called "Rally 4 Peace," in a downtown venue as a response to the city's volatile state. A portion of the ticket sales (which cost between $22 and $497) were donated to Baltimore-based youth charities. Prince's goal was for the concert to be a "catalyst for pause and reflection following the outpouring of violence that has gripped Baltimore and areas throughout the U.S." Audience member Luther Washington told The Baltimore Sun that Prince's concert was exactly what the Baltimore community needed, saying, "This city could use a little joy, a little healing; Prince will do that."
Instead of the requisite purple, the "When Doves Cry" singer, who hadn't played a show in Baltimore in 14 years, urged concert-goers to wear gray in honor of victims of violence and "as a symbolic message to our shared humanity and love for one another." "Music is medicine," Washington stated. "People want to reflect a little bit. [Prince's] message has always been in his lyrics, if you just look deep enough."
The Grammy-winner debuted a new song that night called "Baltimore," dedicated to the aching community. While performing the new track, he brought Mosby up on stage to recognize her efforts in seeking justice. Demonstrators lauded the 36-year-old for rapidly bringing charges against the six police officers allegedly responsible for Gray's death. The prosecutor, a huge Prince fan, attended the show with her husband after receiving tickets for Mother's Day. At the time, Mosby's spokeswoman told The Baltimore Sun the lawyer did not expect to make an appearance but was "simply invited by Prince on stage during the concert." In her own words, Mosby told Vogue magazine, "He called me onstage, and what am I going to do, say no?"
The up-tempo "Baltimore's" lyrics were cathartic for many city residents tired of the violence coming from both the police and the rioters. "Are we gonna see another bloody day? / We're tired of crying and people dying / Let's take all the guns away," Prince sings.
Available on iTunes, "Baltimore" also references Michael Brown, an African-American teenager shot by police in Ferguson, Missouri. "Does anyone hear us pray? / For Michael Brown or Freddie Gray? / Peace is more than the absence of war," the "Purple Rain" artist croons, complimenting some '70s-funk inspired guitar riffs. Periodically through the anthem, Prince leads the crowd in a chant: "If there ain't no justice, then there ain't no peace," a play on a common Black Lives Matter rally chant.
Despite performing chart-topping fan-favorites, Prince's whole message of the night was one of empowerment which he drove home during his classic "Purple Rain." "The system is broken," the singer told the crowd in an interlude. "So it's going to take the young people to fix it." Prince urged young attendees to find "peace" as well as "piece," to become beneficiaries of their community's economy by injecting "new ideas."
"I want to stay tonight in a hotel that is owned by one of you," the Purple One said.
Mosby likely appreciated Prince's concert as a peace-keeping measure. When announcing the charges against the officers, she told protesters, "I have heard your calls for 'No justice, no peace.' However, your peace is sincerely needed as I work to deliver justice on behalf of Freddie Gray." Prince's hit song "Let's Go Crazy" probably summed up his efforts in Baltimore best:
Dearly beloved / We are gathered here today / To get through this thing called life.