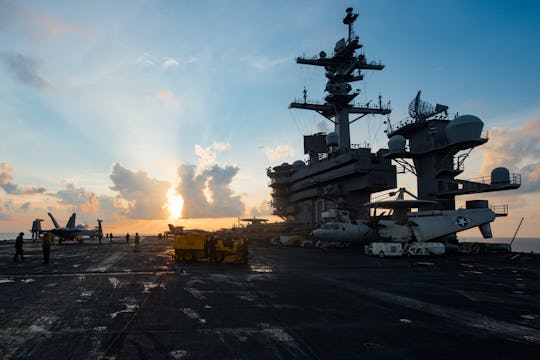 U.S. Navy/Getty Images News/Getty Images
Marine Corps & Navy Make Revenge Porn Illegal
Enough is enough — revenge porn has got to stop. This act, of sharing explicit photos of someone without their consent to "seek revenge" on them, is both disgusting and disheartening. Unfortunately, revenge porn cases are all too common, but the U.S. Marines and Navy are just now taking a stand against the trend in a very public way. As of Wednesday, both the Marine Corps and Navy made revenge porn an illegal act for those under their jurisdiction — and it's about time.
Revenge porn is now specifically banned in the U.S. Navy Regulations, a document that "outlines lawful orders" for those who are in the Navy and Marines, according to BuzzFeed. This addition explicitly bans the distribution of "intimate images" without the consent of the person in the photo. The addition also explicitly states that the distributor of these photos must have the intent to humiliate, harass, or threaten a person and have disregard for the trauma the subject could face by the distribution of the photos. "It provides commanders with another tool to maintain good order and discipline by holding sailors and Marines accountable for inappropriate conduct in the nonconsensual sharing of intimate imagery," Rear Admiral Dawn Cutler told BuzzFeed.
The addition isn't necessarily surprising: After a revenge porn scandal involving Marines made national headlines during the month of March, it seemed only a matter of time before those in charge stepped forward to do something, if only to quell public anger. But whatever the reasoning for it, the move was a smart one. It not only sets an example, allows victims of revenge porn feel as if they may have some sort of safety net in place, despite the trauma they've experienced.
It's disheartening, of course, to know that this needs to be written out — people should know already to not share intimate photos of someone with others without their explicit consent to do so. Nevertheless, it's a promising start in a society that might otherwise sweep this sort of thing under the rug.
When it comes down to it, victims of revenge porn are still significantly vulnerable and unprotected. Thirty-five states and the District of Columbia are the only places with revenge porn laws currently, the Cyber Civil Rights Initiative reports. Depending on the state, these crimes count as felonies and misdemeanors and if found guilty of distribution, the punishments for the crime vary. But while this is major progress, it still leaves victims of revenge porn in 15 different states feeling unprotected and unable to seek justice.
Cases of revenge porn — like the shocking discovery of countless instances within a secret Facebook group unaffiliated with the Marine Corps — are not uncommon. A late 2016 study, conducted by the Data & Society Research Institute, found that one in 25 Americans have been a victim of revenge porn. For being such a common crime, it is unfathomable that there is not a federal law protecting these victims or punishing people for their crimes already in place.
While the changes implemented by the Navy and Marine Corps are promising, they also serve as a reminder that more work needs to be done to protect victims of revenge porn in every state, in every profession and community — before more cases like these crop up.