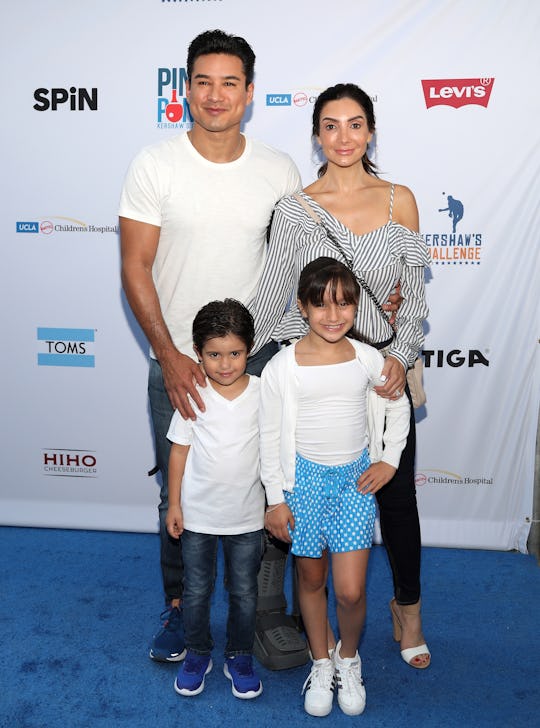 Jerritt Clark/Getty Images Entertainment/Getty Images
Mario Lopez Says Mexican Birthday Parties Are Unique In This One Funny Way
Children celebrate their birthdays in different ways all around the world. Whether it's cakes, balloons, games, or, uh, snakes and a bar for the adults, it's safe to say that every culture's approach to honoring another 365 days in a child's life tends to have a few things in common, though everyone has their own traditions. However, Mario Lopez says Mexican birthday parties are unique in this one funny, very relatable way, and TBH, it's something that every parent will probably want to get down with at their child's next bash.
Us Weekly reported that Lopez and his wife, Courtney Mazza, hosted a party to celebrate their daughter Gia's 8th birthday. However, according to the dad of two, the adults had just as much fun as the kids. "We had a full bartender," he said. "The thing about Mexican birthday parties for kids is they turn into adult parties real quick!"
The couple also had live animals at their backyard jungle-themed party, including a real snake. "The snake was a big hit," Lopez added. "We were taking pictures with the snake. It was great to see my son not be afraid." Though he believes it will take a "while to recuperate" from all the festivities, Lopez also said he "loved seeing all the kids dancing with the music," and that the whole celebration was "so much fun."
However, it wouldn't be a celeb kid's party if there weren't some novelties involved. The magazine also reported that guests were fed a meal from the Italian restaurant Buca di Beppo, and desserts from Cool Haus ice cream. Everyone took home a personalized gift bag created by Mabel's Labels.
But if you thought the day was only about having a good time, you'd be wrong. In the interview, Lopez also revealed that in lieu of gifts, he and his family requested that guests make donations to Jameson's Army, "a charity that raises funding for children and families affected by congenital heart defects."
Unsurprisingly, earlier this year, Lopez was named "Father of the Year" by the National Father's Day Council, OneCountry.com reported.
"I can't believe it. People like JFK and (Ronald) Reagan have gotten it, so I'm like 'are you sure? Did you make a mistake? Did you run out of dads?" he said on a segment of the TODAY show. "I was extremely flattered and humbled. I've been blessed to do so many cool things but nothing will ever compare to being a father. It's the most important and fun role I've ever had."
Of course, Lopez is consistently juggling all of this "best dad ever" business with his career, a task which he told Redbook isn't always easy.
"I try to schedule time for family and specifically for playtime because it's great for the kids, it's healthy for my wife and me, and we can create memories that way and you're bonding," Lopez said. "I make sure that's a priority in our house. We're pretty active, so we'll go on walks outside or hang out by the pool."
He continued telling the magazine that his greatest goal is to make sure his kids are genuinely good people.
"I try to teach them to respect other people and be polite. I feel manners go a long way and come from a good place. If you come from a place of love, you can't go wrong," he said. "There are so many lessons, and they're so young at the moment. I believe some lessons you have to learn the hard way. As long as you have a great family that cares for you and loves you, it will help you get through it that much quicker and will be that much stronger for you in the end."
So far, it seems like Lopez is killing it.