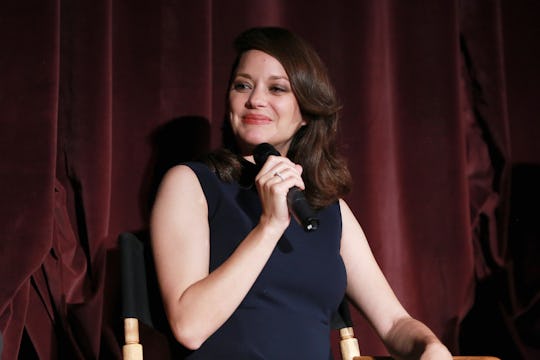 Jonathan Leibson/Getty Images Entertainment/Getty Images
Marion Cotillard Welcomes Second Baby
The celebrity baby bloggers woke up to some exciting news today. According to reports, actress Marion Cotillard has welcomed a second baby, and it's a girl. The French actress and her partner, Guillaume Canet, are parents to the latest bundle of joy, and though not much more is known yet about the the newest addition, it's probably safe to say the couple and their first child, son Marcel, are happy getting to know the newest baby out of the public eye.
Cotillard, 41, is known for her roles in films such as Big Fish, A Good Year, La Vie En Rose, and Inception, among many others. Her turn as French singer Edith Piaf in La Vie En Rose won her the Golden Globe for a foreign language performance, a BAFTA for Best Actress in a Leading Role, and the Academy Award for Best Actress. That's quite the degree of recognition for one role!
Cotillard's partner, Canet, is an actor and director in his own right, with past roles in films like Love Me If You Dare and The Beach, and a Best Director César Award for the movie Tell No One under his belt. Cotillard and the actor, 43, were friends for more than a decade before they started dating back in 2007.
No further details about the birth or the name of the baby girl have been revealed yet, so it appears the celebrity couple is keeping things quiet on that front so far. Which is totally their right — in fact, some actors make it a habit to not publicly reveal such information.
According to E! News, back in September of 2016, the Oscar-winning star announced that she was expecting her second child on Instagram. "Many years ago, I met the man of my life, father of our son and of the baby we are expecting. He is my love, my best friend, the only one I need," she captioned the post.
According to Us Weekly, "Cotillard opened up about motherhood in the August 2012 issue of Vogue. "I've never been more exhausted. But I've never had more energy... This is the paradox of being happy. That's where it comes from."
Cotillard comes from a family that includes younger twin brothers, Quentin and Guillaume. So who knows whether this second child will be her last or if she and her partner will end up with the number her parents, who were also actors, had. Their son was born in 2011, and for now, the couple is surely just enjoying their first child and his new sibling in peace.
Cotillard and Canet have no plans for marriage and are not engaged, and they appear to be very happy together. The two French actors reportedly knew each other for many years before they started dating, and though Canet was previously married to actress Diane Kruger, the couple doesn't seem to be in any rush to get to the altar themselves.
For now, the thespian couple is likely just enjoying the first days with their new baby girl. Congratulations are clearly in order all around, for both the parents and the new big brother, Marcel.