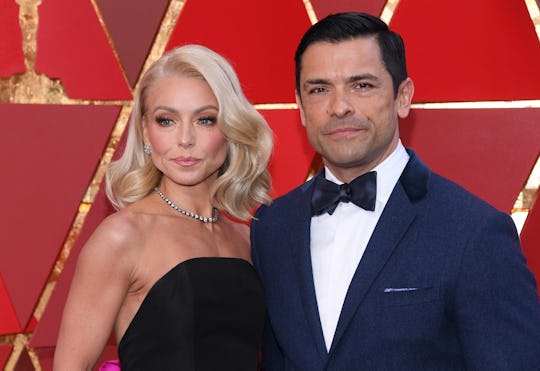 Kevork Djansezian/Getty Images Entertainment/Getty Images
Mark Consuelos Shut Down Body Shamers That Came For This Kelly Ripa Bikini Photo
Few things in life set me off as quickly as people who attempt to shame a woman for her body/what she decides to wear — particularly when it comes to bikinis. For some reason, we as a society tend to be extra judgey about who "should" and "shouldn't" be revealing that much skin on the beach. You can't be too young or too old, of course. Oh, and there had better not be an ounce of cellulite, or any evidence of stretch marks, either. (God forbid.) And if you're a celebrity? Well apparently, you're fair game for even harsher scrutiny. In fact, Mark Consuelos is defending Kelly Ripa after he shared a bikini picture, and body shamers came for her.
If you're not familiar with the long-time celeb couple, Consuelos, 46, and Ripa, 47, first met on the set of the ABC soap opera All My Children, as HuffPost reported. (They played the roles of married couple, Mateo Santos and Hayley Vaughan.) In real life, though, the duo married in 1996 and have three children together. While on a beach vacation over the past weekend, Consuelos took to Instagram to share a photo of a bikini-clad Rippa standing in the ocean, People reported "Sultry Sundays with the sexy one are my fave," he captioned the gorgeous shot.
As HuffPost reported, several of Consuelos' Instagram followers took the photo as an opportunity to criticize both Ripa's choice of bathing suit. "Kelly's gorgeous, but isn't there a cutoff age where age-appropriateness comes into play?" one commenter wrote, according to the publication. "Just because you can rock a bikini, doesn't mean you should." Others decided to take jabs at Ripa's body, effectively shaming her for how fit and lean she is. "She needs to eat something," another Instagram user wrote. Yet another person felt the need to share that Ripa has the "body of a boy."
There are so many things wrong with these statements that I don't even know where to begin. Luckily, Consuelos stepped in to defend his wife against the shamers. "I wanted to take a couple of days to weigh in. Probably should've earlier arguably. But I wanted to be above it," the Riverdale actor wrote in the comments, according to People. "Well, no[w] I'm not. I posted this pic of the wom[a]n I most admire. As a playful tribute to my wife who I'm proud of in endless ways." He continued:
She works extremely hard in her professional life and her commitment to exercise, healthy diet is admirable and the benefits show. Yes she's wearing a bikini at age 47 and will no doubt wear one for many years to come.
You tell 'em, Consuelos. And he didn't stop there.
If that offends you in some way, if it triggers you, or some other psychosis you're suffering from, I suggest you get over it and get used to it. To all the males that had something negative to say. I suggest you bring it up with me if ever I'm lucky enough to run into you. I'm going to get back to my vacation now.. thanks for allowing me to express myself ... I love you @kellyripa… keep killing it.
It's worth noting the naysayers were absolutely outnumbered by all of the positive comments in the post. One of my favorites pretty much hits the nail on the head: "Proper age to stop wearing a bikini? Whenever the hell you want to stop wearing one." So this. The idea that a woman should stop wearing/doing activities after a certain age isn't only agist, it's completely ridiculous. Who comes up with this nonsense? Personally, I have plans to continue running marathons and rocking purple hair well into my 60s. And IDGAF what anyone thinks.
Another person chimed in with, "AND has had 3 kids! Please she's SLAYING in that bikini! I don't blame her because if I still had that body I would be sporting a bikini too! @kellyripa you slay girl!" Which is nice and all, except that it implies that women who don't have bodies similar to Ripa's can't "pull off" wearing a bikini. And that's a whole other kind of BS entirely. Because if you're wearing a bikini, then guess what? You have a bikini body. End of story.
This isn't the first time Ripa and Consuelos have clapped back at trolls on behalf of one anther. In fact, Ripa defended her husband earlier this month when a commenter criticized Conseulos' height, according to E! News. "Too bad he's short when he tries to look taller. It looks funny. Just be who you are," the naysayer wrote, to which Rippa replied, "He's tall where it counts, babe."
So for me, here's the takeaway: Any body is a bikini body — and don't let anyone tell you differently. Old or young. Cellulite, stretch marks, scars, and all. Just wear whatever you want to wear and don't let anyone make you feel less than amazing in your own skin.