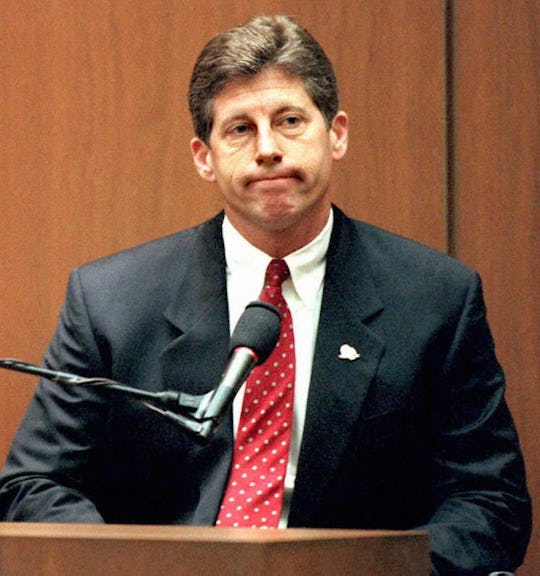 AFP/Getty Images/AFP/Getty Images
Mark Furhman Quotes About The O.J. Simpson Trial That Address His Controversial Testimony
The renaissance that is the O.J. Simpson trial has brought many names — some 20 years old — back to the forefront. One of them that will surely be receiving a lot of attention, again, after Episode 9 of The People v. O.J. Simpson is Mark Fuhrman, the LAPD cop who discovered the bloody glove on Simpson's estate. Fuhrman became a pivotal name in the Simpson case after tapes revealed the repeated use of racial slurs, including the n-word. The defense attempted to paint Fuhrman as racist in attempt to discredit the glove's discovery on the Simpson estate. It was, in a word, very complicated — which is evident in Mark Fuhrman quotes about the O.J. Simpson trial.
Because the O.J. Simpson trial is so easily accessible to the public, it isn't hard to relive the incredibly important moment when Fuhrman took the stand and asserted his 5th Amendment to the defenses questions regarding planting evidence during the investigation. He was made an example of, and it severely hurt the prosecutions case — some could argue that it even cost them the case. By contradicting himself (Fuhrman plead no contest to perjury), he caused questioning in the prosecution's argument, and created way for the defenses claim that the glove was allegedly placed on the Simpson estate in a manufactured way.
So, what has the pivotal character in the trial said since the ruling? Fuhrman has not been quiet since the case came to a close.
In an interview with Oprah Winfrey in 1997, Furhman went on record explaining (and apologizing) for his use of the n-word. When asked by Winfrey why he didn't just confess to using the n-word, Fuhrman said, "I was wrong. maybe there was a great portion of my feelings that probably didn't understand why race was an issue in the case. It is difficult for me to take myself back to that exact moment in time, it's almost like it's frozen out there in space out there, floating around." He also took the opportunity to apologize for his words. "I owe everybody an apology, including you," referring to Winfrey. He further expanded on his apology stating that he was "sorry for having a part in the trial being sidetracked..."
In 1997, Fuhrman also had an interview with the Seattle Times where he explained his use of asserting the 5th Amendment during the infamous courtroom scene, seen on Tuesday's episode of American Crime Story. "I was forced to take the Fifth because prosecutors wouldn't assure me they would ask questions that I could answer in a narrative fashion. I wasn't going to just let the defense ask their yes or no questions to help them mislead the jury."
But what has Fuhrman said about the trial recently? While visiting the Outnumbered set on Fox News, Fuhrman said that he felt it was only a matter of time for Simpson to end up in prison again. "It was inevitable," he said. "It's like Robert Durst. You have somebody that is rich and famous, that people go 'This is too much trouble, we're going to let somebody else figure out how to handle this. I'll give it to my boss, we can do a hand-off.' And it just get's watered down until nothing is done. He had many incidences she should have been arrested and put in jail. But it was just a matter of time."