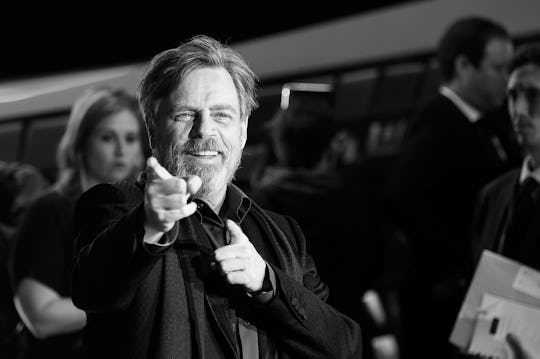 Frazer Harrison/Getty Images Entertainment/Getty Images
Mark Hamill's Joker Reading Trump Tweets Is Gold
If there's one thing about the upcoming Trump presidency we can all agree on, it's that the president-elect's tweets have always been a bit comical. From standing up for Russian President, Vladimir Putin, to bashing fellow celebrity-turned-public-servant, Arnold Schwarzenegger, Trump's tweets have become a media sensation. And while sometimes laughing at them can seem a bit strange, it can also be a nice distraction from the reality-show level strangeness that has become our nation's newest political rhetoric. The latest distraction is brought to you by Mark Hamill and the beauty of technology, as evidenced on Twitter Saturday night, where Hamill read a Trump tweet in the sickly evil voice of the Joker, a legendary Batman villain.
Hamill, best known for playing Luke Skywalker in the Star Wars films, has also lent his voice to the DC Comics villain, the Joker, making his latest joke that much more memorable. Reading Trump's tweets in the Joker voice was an idea actually suggested to Hamill (via Twitter) by writer and director Matt Oswalt, who called it a "billion dollar" possibility. From there, Hamill reached out to some tech-savvy friends and was able to download a voice-changing app on his phone.
It was then, that this greatness was achieved:
The first "Trumpster" clip from Hamill is a reading of the future president's New Year's Eve tweet, in which Hamill, as the Joker/Donald, quite literally, laughs at anyone who stood against him during the election cycle (notably, Trump arguably referred to citizens who didn't vote for him as "enemies"). Since Hamill posted the tweet last night, it has garnered national attention, and, hopefully, is paving the way for even more future "Trumpster" tweets.
While Hamill's tweet is enough to make us laugh until you cry (or almost cry), it at least provides a brief respite from the reality of current politics. Because while a reality star may be about to take charge of our country, it still doesn't feel quite that real for many. Hamill's use of satire is a refreshing look at just how ridiculous Trump's tweets can really be.
In fact, just by reading the words of our future president, verbatim, Hamill is able to paint a picture of an (albeit comic) insecure, unkind villain. One who is unsure of what to gleefully do with all the power at his feet. (Sound familiar?)
Of course, while these dubbed tweets are fun to laugh at for now, it's important to remember that a Trump presidency if real — and it's right around the corner. More importantly, Hamill's voiceover should serve as an important reminder: Trump's behavior on social media is strange, and abnormal, and wholly inappropriate for the highest office in the land — something only a comic book villain would likely appreciate in all it's peculiarity.