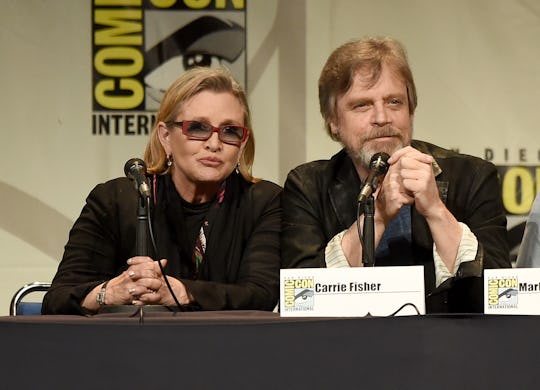 Kevin Winter/Getty Images Entertainment/Getty Images
Mark Hamill Reacts To Carrie Fisher's Death
Just when you think 2016 couldn't possibly take anything more from us, bad news once again rears its ugly head, this time in the form of Carrie Fisher's tragic death on Dec. 27, after suffering a heart attack last week. The actress, who was most famous for her role as Princess Leia in the Star Wars franchise, was only 60 years old, which makes the news all the more heartbreaking. She was gone way too soon. However, fans aren't the only ones trying and failing to cope with yet another celebrity loss. Her fellow co-stars who knew her best, such as Mark Hamill has reacted to Carrie Fisher's death and his sentiment is both equal parts heartwarming and heartbreaking.
As you can imagine, the two actors grew very close during their time on the set of Star Wars, which has made for a lifelong friendship. When Fisher had first suffered her heart attack on Dec. 23, Hamill had immediately taken to Twitter to voice his concerns (and the collective complaint of how terrible 2016 truly is) by sending all of his love her way in the hopes that she would make a speedy recovery. And while it initially had seemed like she was in stable condition and in the clear from any real danger, that unfortunately did not turn out to be the case.
It was a short message, to say the least, but it pretty much summed up how everyone in the world is feeling right about now. "No words," the actor wrote on social media with the appropriate hashtag #devastated to accompany it. Included was also a picture of both Hamill and Fisher dressed in their Star Wars character costumes as a heartfelt callback to better days.
As usual, it's always hard to say goodbye to someone who's been a prominent fixture in the media since well before I was born. But given all of the death and tragedy that has made up so much of 2016, the weight of this particular loss seems almost too heavy to bear. I hate to think about what other damage this year could bring in (we still have five days left until 2017 rolls around). And the fact that Carrie Fisher is the next victim is just downright devastating. This a woman who was always filled with so much life and who clearly still had so much left to give. Suffice to say, she will be greatly missed both by those who knew her and those we loved her from afar.