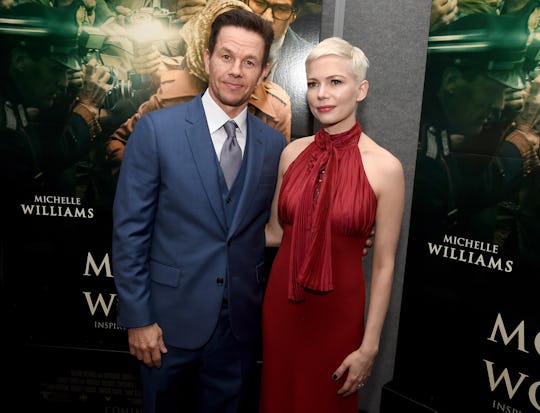 Kevin Winter/Getty Images Entertainment/Getty Images
Mark Wahlberg Donates $1.5 million In Michelle Williams' Name After Pay Controversy
Last weekend, the Golden Globe Awards highlighted many important topics concerning women in Hollywood. The #MeToo and #TimesUp movements were both huge catalysts for awareness during this star-studded event. For starters, nearly all of the ceremony's attendees wore black in solidarity with victims of sexual misconduct. A slew of celebrities made a statement, too, by bringing activists as dates. And acceptance speeches were filled with empowering messages for women, along with condemnation for sexual misconduct and unequal pay. Just two days after the Golden Globes, however, a huge scandal involving actors Mark Wahlberg and Michelle Williams blew up in the media. Now, Mark Wahlberg has donated $1.5 million to Time's Up, following the pay gap controversy with award-winning actress Michelle Williams.
People reported the original controversy had to do with the stars' movie, All the Money in the World. After the allegations involving Kevin Spacey — who was kicked off the movie after accusations of sexual misconduct by multiple men came to light — reshoots on the film were done when Christopher Plummer was hired to replace Spacey. And reportedly, Williams was paid less than $1,000 — less than 1 percent of Wahlberg's pay — for the reshoot. Let that sink in for a moment. Not cool.
HuffPost reported that Wahlberg came under attack following the revelation of this shocking pay gap. Celebrities and average people alike took to social media to express their support for Williams. "This is so messed up that it is almost hard to believe. Almost," Judd Apatow tweeted. "This is how this business works. I wonder if the studio or Wahlberg will do something to make the situation less insane."
Whether it was this intense pressure — or simply because he felt it was the "right thing" to do — Wahlberg announced on Saturday that he has made a donation to Time's Up in Michelle Williams' name. "Over the last few days my reshoot fee for All the Money in the World has become an important topic of conversation," Wahlberg said in a statement shared on both Twitter and Instagram, according to People. "I 100 percent support the fight for fair pay and I'm donating the $1.5 million to the Time's Up Legal Defense Fund in Michelle Williams' name."
In addition to Wahlberg's generous donation, his agency, William Morris Endeavor also made a $500,000 donation, Us Weekly reported. "The current conversation is a reminder that those of us in a position of influence have a responsibility to challenge inequities, including the gender wage gap," WME said. The statement continued:
In recognition of the pay discrepancy on the All the Money in the World reshoots, WME is donating an additional $500,000 to the Time's Up Legal Defense Fund in Michelle Williams' name, following our $1 million pledge to the organization earlier this month. It's crucial that this conversation continues within our community and we are committed to being part of the solution.
An overwhelming majority of Twitter users seemed to be impressed by the actor's gesture. "Good for you, Mark. I hope other men in our industry follow suit," Amber Tamblyn tweeted. "Amazing. The lesson here is that pressure for equal pay works," Melissa Silverstein wrote on Twitter. "Well done Mark," another person tweeted. "It was an awkward moment but you stepped up. Hopefully studios will be more conscious of their decisions for everyone in the future."
Still, many Twitter users seemed to think the staggering pay difference was warranted, and that Wahlberg shouldn't have been pressured into to making this donation in the first place. "Wahlberg shouldn't have been shamed into doing this," one person tweeted. "He deserved more $$. HE is the box office draw not her. Is this going to come to equal pay for all actors no matter their box office draw or talent?" Another Twitter user chimed in with, "Throw Wahlberg in a movie and it's almost guaranteed to make at least 100 million dollars. Throw Michelle Williams in a movie and it won't guarantee you a dime at the box office."
As the Daily Beast pointed out, arguments that Michelle Williams didn't deserve equal pay for her leading role in All the Money in the World are ridiculous. "What makes the Williams situation so powerful is that she is Michelle Williams, a two-decade veteran of the industry with four Oscar nominations under her belt," the publication argued. "This is a very famous person. This is a very good actress. So good, in fact, that she was nominated for Best Actress at the Globes for her All the Money in the World performance. She is the lead, by leaps and bounds, of the film." And here's the kicker:
Folks, Michelle Williams didn't just deserve equal pay to Mark Wahlberg for her work in All the Money in the World. She deserved more.
Amen! I couldn't have said it better. While I'm thrilled that Mark Wahlberg has made this generous donation — and he should be praised for doing so — this systemic injustice needs to stop at the top. Because seriously, #Timesup, folks.