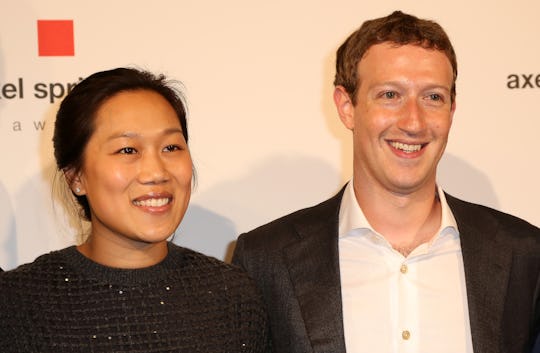 Adam Berry/Getty Images Entertainment/Getty Images
Mark Zuckerberg Will Take Paternity Leave For His 2nd Baby, & It Makes An Important Statement
With Priscilla Chan and Mark Zuckerberg expecting baby number two any day now, the Facebook founder is gearing up to take his second paternity leave — and in a Facebook post shared to his followers, he made it clear that he's not compromising when it comes to spending time with his little ones at home. Just like he did when baby Max was born nearly two years ago, Zuckerberg will be taking two months' paternity leave when Priscilla gives birth to their second child, and he explained in his post why he thinks that time is so important.
"Our new daughter is coming soon, and I'm planning to take two months of paternity leave again," he wrote on Facebook on Friday. He continued:
This time, I'm going to take advantage of Facebook's option to take leave in parts. I'll take a month off to be with Priscilla and the girls at the beginning, and then we'll spend the whole month of December together as well. I'm looking forward to bonding with our new little one and taking Max on adventures.
Facebook employees — both moms and dads — can take up to four months of parental leave when they welcome a new child. The company is leading the way in the United States when it comes to generous paid leave policies, alongside Netflix (where new parents can take up to a year of paid time off) and Etsy (where parents get six months).
Yet, despite the fact that more and more companies are offering paid paternal leave, most dads simply aren't taking it. According to Forbes, a 2012 study of tenured professors found that only 12 percent of dads took paid parental leave when it was offered to them (compared to the 69 percent of mothers who took it). That means that nearly four in five dads choose not to take advantage of their paid parental leave when their kid is born.
To be clear, dads don't choose not to take their leave because they are bad parents. But fathers often face an unspoken or societal pressure not to take much time off, or they worry that they will be fired or replaced if gone too long. Nearly 60 percent of men surveyed by Deloitte felt that employers would see them as uncommitted to their job if they took parental leave.
Zuckerberg has spoken about the importance of taking parental leave before, but his reiteration on Friday is clearly necessary for dads. "Studies show that when working parents take time to be with their newborns, it's good for the entire family," he wrote on Facebook. "And I'm pretty sure the office will still be standing when I get back."
Here's to Zuckerberg for leading by example — and for helping dads feel more comfortable taking time off to be with their new arrivals. After all, that's bonding time that you can't get back.