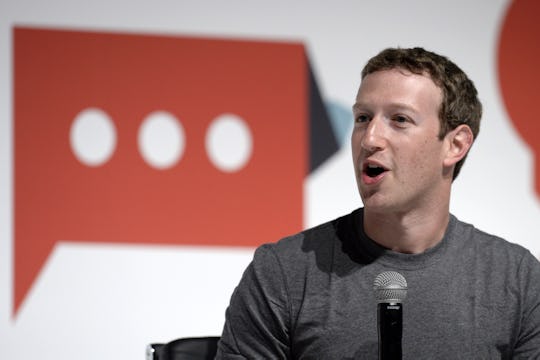 Mark Zuckerberg Is Making His Home A Smart House, But It Might Not Be Like The Disney One
On Sunday, Mark Zuckerberg announced his personal project of 2016 on Facebook: this year, Zuckerberg will make his house a smart home. Specifically, he wants to code his own artificial intelligence (AI) to run his home and help him out. "You can think of it kind of like Jarvis in Iron Man," he wrote in his post — in other words, nothing like the 1999 Disney movie Smart House.
Zuckerberg detailed his smart home plan in his post, in which he explained what he wants out of his coding (including a heartwarming shoutout to new baby Max):
I'm going to start by exploring what technology is already out there. Then I'll start teaching it to understand my voice to control everything in our home -- music, lights, temperature and so on. I'll teach it to let friends in by looking at their faces when they ring the doorbell. I'll teach it to let me know if anything is going on in Max's room that I need to check on when I'm not with her. On the work side, it'll help me visualize data in VR to help me build better services and lead my organizations more effectively.
Definitely sounds like a much better plan than Ben's smart home, PAT, in Smart House, which quickly went awry and took on the personality of an overbearing mother. The Disney movie may have predicted some cool aspects of smart homes and AI — has anyone else drawn comparisons between Siri and PAT? — but it was a bit excessive. Zuckerberg's smart home seems like an awesome helping hand, which is exactly what busy parents like Zuckerberg and his wife Priscilla Chan need.
From his post, some have drawn the conclusion that Zuckerberg will be jumping into the AI business and selling smart home systems soon, but let's not get ahead of ourselves. It may well be that he's just that ambitious friend whose awesome news seems to scroll onto your Facebook feed right at the moment when you're eating a family pack of Doritos mid-Jessica Jones binge.
Many have weighed in on Zuckerberg's 2016 resolution:
but my favorite exchange happened between a woman named Darlene and Zuckerberg himself:
With a massive business, a new philanthropic organization, and a (way cute) new baby on his hands, kudos to Zuckerberg for taking on such a huge new year's resolution. His past new year projects have included learning Mandarin, read two books a month, and meet one new person every day. Makes my new year's resolutions (past and present!) pale in comparison, and I'm not even a new parent.
However, the news is a reminder to set up fun, personal projects for ourselves, no matter where we may be in life. I may not think building an AI system sounds fun (or even doable), but I can see the value in carving out some time to do things that interest me while also (hopefully) making me a better human. I may just need to cut down on my Jessica Jones time.
Image: LLUIS GENE/AFP/Getty Images