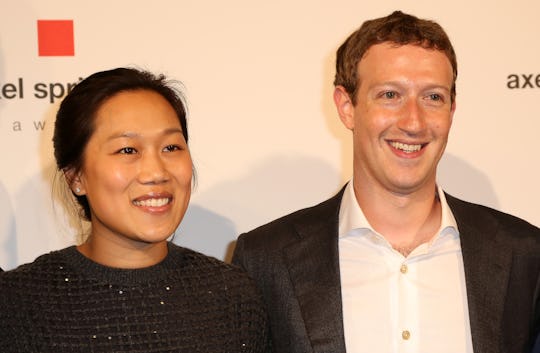 Adam Berry/Getty Images Entertainment/Getty Images
Mark Zuckerberg & Priscilla Chan Announce 2nd Baby
Social media tycoon and philanthropist Mark Zuckerberg and Pricilla Chan are expecting their second child. In a lengthy Facebook post on Thursday, Zuckerberg announced that the couple is expecting another baby girl, who will join older sister Max, age 14 months. Zuckerberg wrote, "I cannot think of a greater gift than having a sister and I'm so happy Max and our new child will have each other." He also shared that his own three sisters are "some of my best friends," and Chan's two sisters "taught her the importance of family, caring for others and hard work." He finished with the sentiment, "We are all better people because of the the strong women in our lives – sisters, mothers and friends. We can't wait to welcome our new little one and do our best to raise another strong woman."
The family made headlines in late 2015 when, following the birth of Max, they introduced the Chan Zuckerberg Initiative, with the broad goals of "advancing human potential and promoting equality" in order to make the world a better place for their daughter. The couple promised to fund their mission by giving away 99 percent of their shares in Facebook, worth $45 billion at that time.
The couple has always been open about their family planning, including their struggle to conceive; they reportedly suffered three miscarriages before Max came along. In their first Facebook pregnancy announcement, Zuckerberg wrote about how "most people don't discuss miscarriages," but once they opened up to their friends, they realized that it's actually quite common. "In today's open and connected world, discussing these issues doesn't distance us; it brings us together," he wrote. "It creates understanding and tolerance, and it gives us hope."
In an interview with Today's Savannah Guthrie last September, Chan concurred: "There are really dark moments where you think you're alone. And when we realized that we weren't and that there were other people traveling along the same road with you... I think having that, knowing that you're not alone, was incredibly important for us. And we wanted others to know that they weren't alone, either." A pediatrician and former elementary school educator, Chan recently founded The Primary School, an education-health care-community outreach hybrid for low-income children in Palo Alto, California. A kid couldn't hope for a more qualified mother than that. And a billionaire dad certainly doesn't hurt, either. Congratulations to the whole family, and if you're interested in adopting a grown woman, hit me up.