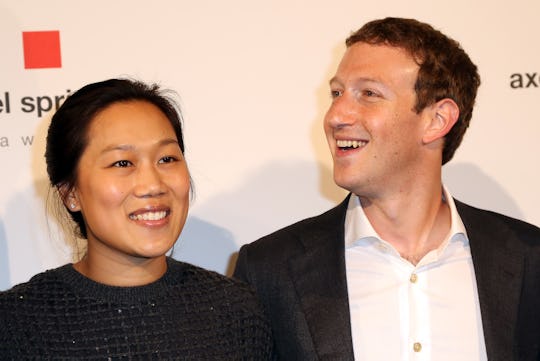 Adam Berry/Getty Images Entertainment/Getty Images
Mark Zuckerberg & Priscilla Chan Welcome Another Baby Girl
Attention, Facebook friends! On Monday, Facebook co-founder and CEO Mark Zuckerberg announced the birth of his second daughter with wife Priscilla Chan. To welcome their bundle of joy to the world, the couple wrote their new daughter, August, a beautiful letter and, of course, posted it on the social networking site.
Zuckerberg shared the news of August's birth on his own Facebook page, along with a sweet family photo of the proud parents holding tiny August and the couple's older daughter, Max, who was born in 2015. In the accompanying letter, Zuckerberg and Chan had some important advice to give August, and you don't have to be the newest member of the Zuckerberg-Chan clan to appreciate it.
The couple touched on the world that they hope August will grow up in, highlighting their optimism for the future despite the doomsday tone of many current headlines. But really, Zuckerberg and Chan wanted to focus on the magic of childhood, writing:
The world can be a serious place. That's why it's important to make time to go outside and play... Childhood is magical. You only get to be a child once, so don't spend it worrying too much about the future. You've got us for that, and we'll do everything we possibly can to make sure the world is a better place for you and all children in your generation.
The couple gave shout-outs to some of the definitive, imagination-sparking childhood activities they hope baby August will dive into (once she's able to do more than poop and sleep and cry, of course). They hope she'll read Dr. Seuss books, ride the carousel with her older sister, and run all around the house and yard. They also hope — and understandably so — she'll "take a lot of naps," because while childhood energy can be glorious, some parental downtime can be glorious, too.
The letter may offer some great advice to kids, but it also serves as an important reminder for adults that, while the world may seem pretty scary right about now, there's still the capacity for so much joy, fun, and love.
The letter is already heartfelt, but it takes on an extra layer of meaning knowing that Zuckerberg and Chan tried to start a family for years before having Max. They have previously been open about the loneliness and sadness of going through three miscarriages, hoping to destigmatize the experience, and they shared that they weren't sure if they'd be able to have another baby after their first daughter's difficult birth.
"August, we love you so much and we're so excited to go on this adventure with you. We wish you a life of joy, love and the same hope you give us," Zuckerberg and Chan concluded their letter.
Now that August is finally here, the family will be spending lots of time together, with Zuckerberg taking two months of paternity leave. After all, childhood is magical for kids, but it's also magical for the parents who get to be present with them as they experience it.