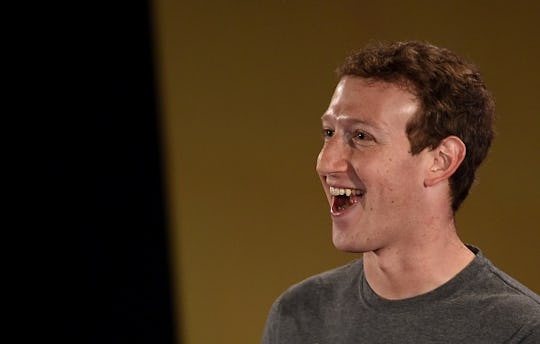 Mark Zuckerberg Shared A Photo Changing His Daughter's Diaper, Proving He's Got The Dad Thing Down
I'm sure all of us have doted over pictures of newborns our friends post en masse to social media, and here's another one to melt over. Taking to Facebook (how apropos), Mark Zuckerberg shared a photo changing his daughter Max's diaper, writing "One more down, thousands to go." The adorable nature of the photo only makes us want more posts and to see what other things this awesome family has in store.
And our wishes may be granted. Mashable reports that Zuckerberg is on two months of paternity leave, giving the Facebook CEO and co-founder will have plenty of time to show us little Max. Yes, that's paternity with a 'P.' It's great to see Zuckerberg leading by example and embracing this policy at Facebook, as an August poll from the Society for Human Resource Management revealed that only 17 percent of companies extend this courtesy.
The sharing of this special moment should come as no surprise to people, as Zuckerberg and his wife Priscilla Chan have been pretty open about their new addition. Not only did Zuckerberg announced Max's birth via Facebook, but he put a spotlight on miscarriage, a typically taboo topic that deserves our attention.
One thing's for certain — the birth of Max has had the couple think about the impact they leave on society. On Dec. 1, Zuckerberg and Priscilla Chan announced they will donate 99 percent of Facebook stock — valued at $45 billion — to various charities. Specifically, the money will be put into their foundation, the Chan Zuckerberg Initiative which will mainly focus on improving health and education. "We know this is a small contribution compared to all the resources and talents of those already working on these issues. But we want to do what we can, working alongside many others," Zuckerberg and Chan wrote in an open letter to Max. The couple continued:
Max, we love you and feel a great responsibility to leave the world a better place for you and all children. We wish you a life filled with the same love, hope and joy you give us. We can't wait to see what you bring to this world.
If you're feelings all the feels about such a move, you're not alone. The top comment was from none other than Melinda Gates, who with husband Bill are famous for their commitment to philanthropy — donating more than $28 billion through the Bill and Melinda Gates Foundation. She wrote:
"We can be confident of this: Max and every child born today will grow up in a world that is better than the one we know now. As you say, 'seeds planted now will grow.' Your work will bear fruit for many decades to come."
Max is sure to grow up to be just as amazing as her parents. I mean, how couldn't she? She has a ton of successful, great people rooting her on — including us.
Images: MONEY SHARMA/Getty; Giphy