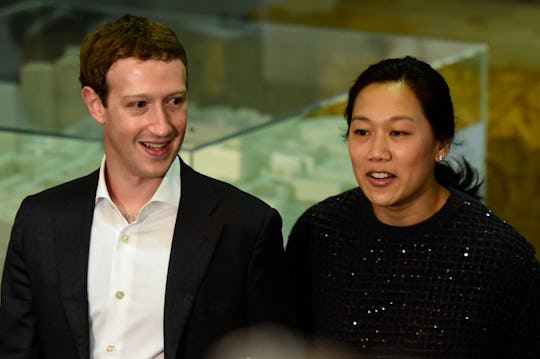 JOHN MACDOUGALL/AFP/Getty Images
Mark Zuckerberg Shares A Photo For His Daughter's First Birthday, & It's So Sweet
Despite its worldwide success, Facebook isn't the creation Mark Zuckerberg is most proud of. That honor goes to his first child with wife Priscilla Chan, who had a birthday this week. To mark the occasion, Mark Zuckerberg shared a photo of his daughter's first birthday, and it's so sweet.
Zuckerberg, 32, created Facebook when he was still in college. From his dorm room back in 2006, he created the wildly popular social network when he was just 20 years old. Facebook's success, and its subsequent high-profile acquisitions throughout the years (more than 50, such as Instagram), have made Zuckerberg a billionaire.
Despite being most well-known for creating the social network that made oversharing on the internet kind of a thing, Zuckerberg is a pretty private person. When he married his wife, Priscilla Chan, in 2012, their relationship had been fairly private up until then — even though they'd been together for years. Last year, when they announced they were expecting, Zuckerberg and Chan took the opportunity to also discuss the challenges they had faced in getting pregnant: Chan had several miscarriages, and they spoke openly about that experience, hoping to help dispel the stigma attached to speaking out.
In an interview with People, Chan said of their experience:
Sharing our experience with pregnancy was incredibly important because we realized how challenging and difficult that was and there are really dark moments where you think you're alone. We realized that we weren't and that there were other people traveling along the same road with you. I think having that, knowing that you're not alone, was incredibly important for us. And we wanted others to know that they weren't alone either.
Zuckerberg and Chan shared a few photos celebrating their daughter's first birthday. Maxima, nicknamed Max, has also shown up on their Facebook timeline's before. Shortly after her birth, Zuckerberg posted a touching letter to his newborn daughter on his Facebook page:
Max, we love you and feel a great responsibility to leave the world a better place for you and all children. We wish you a life filled with the same love, hope and joy you give us. We can't wait to see what you bring to this world.
A few months ago her proud parents shared her first word — which was "dog." After sharing the latest photo of Max from her birthday party, her father wrote: "Here's to many more years of happiness and health for Max and all children around the world."