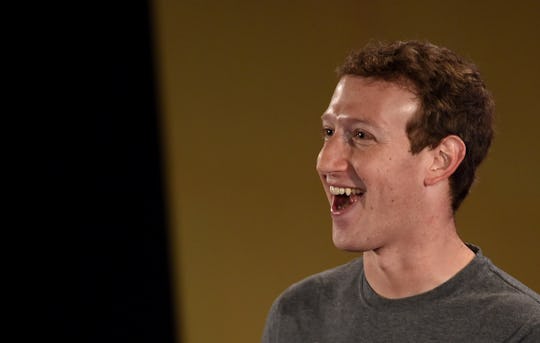 Mark Zuckerberg Shares A 'Star Wars'-Inspired Photo Of Daughter Max & It's Obvious The Force Is With Her — PHOTO
Facebook CEO Mark Zuckerberg just proved, yet again, why he gets the internet better than anyone else. True to nerd form, Zuckerberg shared a Star Wars-inspired photo of his daughter, Max to Facebook Thursday. Shared just hours before the first midnight premieres for Star Wars: The Force Awakens, Zuckerberg's photo made it clear that Max would be well-educated in the ways of the Jedi.
Zuckerberg and wife Priscilla Chan announced Max's birth on Dec. 1, according to POPSUGAR. They also announced that they would be giving 99 percent of their Facebook shares to charity in Max's honor, which touched hearts everywhere. And on Dec. 11, he shared a photo of himself changing Max's diaper with the caption, "One more down, thousands to go," accoridng to the Atlanta Journal-Constitution. But Zuckerberg hasn't been taking the whole fatherhood thing too seriously. He's been having lots of fun taking baby photos and, now, dressing up Max for the newest Star Wars movie.
Star Wars: The Force Awakens premieres Friday at midnight, and it's already sold more tickets on Fandango than any other film in history, according to Variety. The film is set about 30 years after Return of the Jedi, when Luke Skywalker defeats Darth Vader with the help of his sister, Princess Leia and Han Solo, according to the New York Times. Like, Skywalker, Zuckerberg believes that the force is strong with Max.
It's well-known that Zuckerberg is a Star Wars fan, because in October Zuckerberg commented on the Force Awakens trailer, saying "This looks amazing. I love Star Wars," according to Tech Insider. The Star Wars Facebook page responded to his comment with, "We know."
It was a brilliant joke meant to recreate the history-making movie moment when Princess Leia professed her love to Han Solo and he simply replied, "I know." Now, Zuckerberg can continue professing his love for Star Wars through daughter and young Jedi Max.
Image: Getty Images