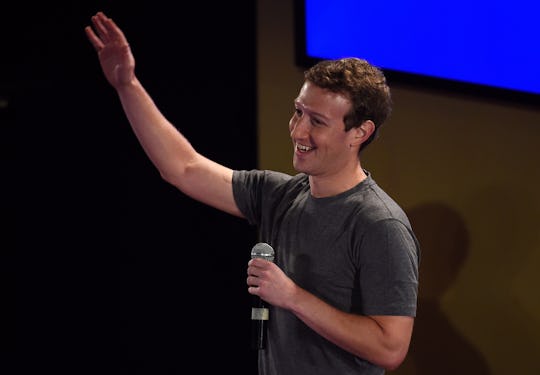 MONEY SHARMA/AFP/Getty Images
Mark Zuckerberg Sort Of Responded To Kanye's Request For $1 Billion
Noted tweeter of ridiculous things (and also rapper and fashion designer) Kanye West spent the weekend begging for money on Twitter, claiming that he was $53 million in debt, and specifically asking Facebook founder Mark Zuckerberg for a loan. "Mark Zuckerberg invest 1 billion dollars into Kanye West ideas," he tweeted. Then, the next day, "Mark Zuckerberg I know it's your bday but can you please call me by 2mrw…" A little presumptuous, if you ask me. Zuckerberg responded to Kanye West (kind of) in his own way on Thursday.
Although Zuckerberg hasn't responded directly — he doesn't even have a Twitter account, so maybe he didn't see the tweets — he kind of acknowledged them in a way. According to Complex, software engineer and former Facebook employee Steven Grimm posted to the social networking site on Monday, "Dear Kanye West: If you're going to ask the CEO of Facebook for a billion dollars, maybe don't do it on Twitter," and Mark Zuckerberg himself liked the post (unfortunately, Grimm later deleted the post, but Complex has multiple screenshots).
So, is that a "no," then? Zuckerberg just gave away $45 billion back in December, cashing in the bulk of his Facebook stock in order to fund the Chan Zuckerberg Initiative, a nonprofit with the goal of advancing education, health care, and clean energy research, among other things. Perhaps he just doesn't have a billion dollars to spare.
Or maybe Zuckerberg just doesn't believe that West really needs it. Although West has repeatedly tweeted about being in dire straights, claiming he he could "barely breathe," stating that he doesn't "have enough resources to create what I really can" and calling this his "time of need," he's not actually broke. Though he originally claimed to be "$53 million in personal debt" on Saturday, the word "debt" seems to be an exaggeration. On Tuesday, he tweeted about the "53 that I've invested over the past 13 years."
No, West is far from destitute. Remember, it was just a couple of months ago that he lavished his wife, Kim Kardashian, with more than 150 Christmas gifts. Us Weekly reported that the gifts included designer clothing and a rainbow fur coat (what?), and that West "shopped" by sending his assistant to Italy and supervising the purchases live via Skype. And Celebrity Net Worth estimated West's wealth at $145 million. True, the information looks a bit outdated — they mention his daughter, North, but not his new son, Saint; they also refer to his Nike collaboration as current — but that means they also haven't accounted for the fact that he just released a fashion collection and an album in the past week, so he's sure to have a few bucks rolling in shortly. It looks like he'll survive even without Zuckerberg's help, after all.