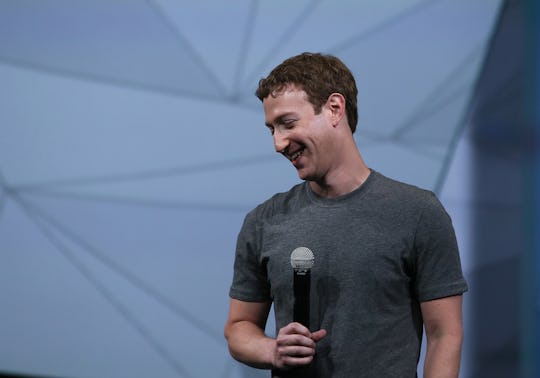 Mark Zuckerberg Took Max For A Swim & It's Just More Proof He Is Totally Owning Fatherhood
Oh, Mark Zuckerberg. Even though it's super easy to dislike him based on the fact that he is worth a gazillion dollars and owns all most people's souls thanks to their endless Facebook addictions, ever since his daughter, Max, was born back in November, he has somehow managed to become the epitome of #dadgoals. Zuckerberg posted a photo of daughter Max's first swim on his Facebook page on Monday, showing himself in the pool with his adorable two-month-old daughter, according to Us Weekly.
The caption reads, "Max's first swim. She loves it!" — and judging by the super serene look on her face, he is absolutely right about that. Add in the fact that Zuckerberg looks totally sweet and completely in love with his little one (swoon!), and it's no surprise that the photo already has well over 2 million likes.
The new photo is the latest in a string of awesome dad updates from the Facebook founder following little Max's birth. Of course, there was the incredible announcement from Zuckerberg and his wife, Dr. Priscilla Chan, that they would be allocating 99 percent of their Facebook shares to charitable causes, according to The New York Times (which, let's be honest, is pretty hard to beat as far as awesome dad updates go). But he's also shared other sweet photos from Max's life so far, like an adorable shot of the two of them snuggling when Max was only a few weeks old, a pic of Zuckerberg showing off his diaper-changing skills, and even a shot at the doctor's office, where Max was due for her first set of shots (making a point, by his own example, about what he and Chan consider to be the value of vaccines).
In addition to showing the world what a hands-on dad he really is, Zuckerberg has also been totally upfront about being a feminist dad, too. According to TIME, Zuckerberg announced he'd be taking a two-month paternity leave from Facebook — a decision that added an important perspective to discussions about the value of paid parental leave for both moms and dads (something that is severely lacking in most of the United States). And when he recently announced his plan to build an AI personal assistant to help him around he house, he had the perfect answer to an inadvertently sexist comment about encouraging girls "to date the nerd in school," according to The Huffington Post:
Even better would be to encourage them to *be* the nerd in their school so they can be the next successful inventor!
(Girls in STEM, for the win!)
At this point, I'm not entirely sure it's possible to love Dad Zuckerberg anymore than I already do, but these posts also serve a broader purpose — whether he intends them to or not. By sharing these photos, he's showing the world what so many new moms already know: that there are countless millennial dads out there who are totally killing it at modern parenthood, and helping to change preconceived ideas about what involved dads really look like. Zuckerberg is just one of many young dads doing fatherhood differently, and that is seriously awesome.
Image: Justin Sullivan/Getty Images