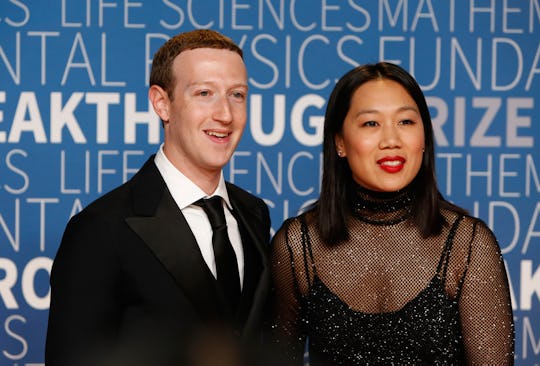 Lachlan Cunningham/Getty Images Entertainment/Getty Images
Mark Zuckerberg's Sleep Box Is A Genius Hack To Help Parents Get Some Shuteye
They say "a baby changes everything." And if you ask me, one of the areas of life that changes the most is sleep. The amount of shuteye, sleep quality, and sleep consistency — all of that goes down the drain when you have a newborn in the house. Many parents even awaken without the "help" of their kids, only to glance at the clock, fret over how much time they have left to sleep/when their little ones are going to wake up — and then have issues finally getting back to sleep. But Mark Zuckerberg's sleep box is a clever hack for anxious parents who wake up at night.
If you've lost track, the Facebook founder/CEO and his wife Priscilla Chan have two young daughters, as Us Weekly noted: Maxima, 3, and August, 1. So it's probably a pretty safe bet that they're still aren't getting very restful nights of sleep. And apparently, the father of two has invented a tool to help his wife sleep more soundly at night.
Zuckerberg took to social media over the weekend to share his impressive idea, according to CNN. "Being a mom is hard, and since we've had kids Priscilla has had a hard time sleeping through the night. She'll wake up and check the time on her phone to see if the kids might wake up soon, but then knowing the time stresses her out and she can't fall back asleep," he wrote alongside a photo of a wooden box. "So I worked on building her what I call the 'sleep box.'"
Zuckerberg went on to explain how his invention works. As it turns out, the sleep box — which sits on his wife's nightstand — emits a faint light between 6 a.m. and 7 a.m. This light is "visible enough that if she sees it she'll know it's an OK time for one of us to get the kids." Yet it's dim enough not to wake her up in the middle of the night. Because the box doesn't show what time it is, Priscilla is able to go back to sleep if she happens to wake up — without fretting about what time it is. "So far this has worked better than I expected and she can now sleep through the night," Zuckerberg noted, according to USA Today. He continued:
As an engineer, building a device to help my partner sleep better is one of the best ways I can think of to express my love and gratitude. A bunch of my friends have told me they'd want something like this, so I'm putting this out there in case another entrepreneur wants to run with this and build sleep boxes for more people!
Plenty of Zuckerberg's Instagram followers seem to be on board with his sleep box. One person simply wrote, "Husband goals."
Another Instagram user commented, "I needed this for the past 8 years of no sleep! This will help so many moms. Brilliant 🙌🏻."
Yet another follower chimed in with, "Love this and love that you did this to show your love. Perfect ❤️"
Granted, I haven't personally had issues with this type of anxiety keeping me up at night. (I fall asleep in 5 seconds and sleep like a rock.) However, I can imagine a sleep box would help plenty of anxious parents get some much-needed shuteye. (*Cough* My husband *Cough*.) Kudos to Zuckerberg for using his mad engineering skills to make life easier for his wife. I'm sure everyone in their home has reaped the benefits!