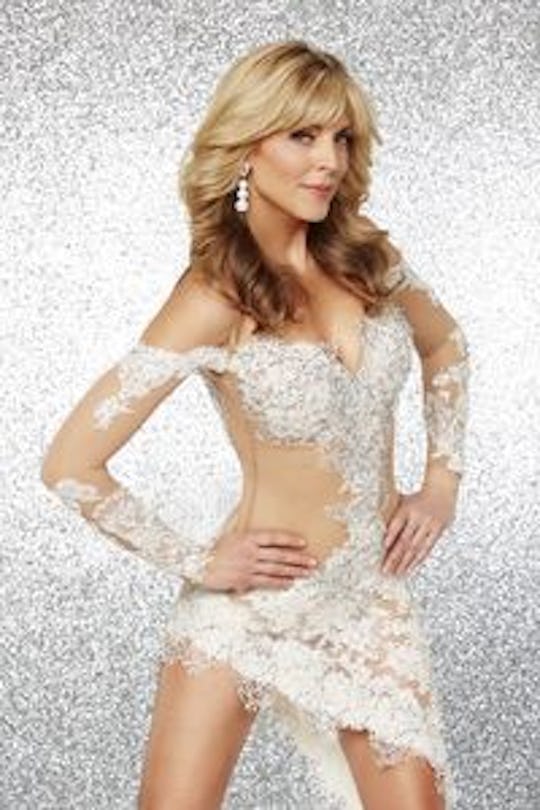 Craig Sjodin/ABC
Marla Maples Feels Empowered On 'Dancing With The Stars,' Breaks Out Of Trump's Shadow
On Monday night's Dancing With the Stars Disney Night, Marla Maples and partner Tony Dovolani performed an elegant waltz to "Part of Your World" from The Little Mermaid, a classic Disney jam and, coincidentally, my favorite song to sing in the shower. Waiting for the scores, host Erin Andrews asked Maples how it felt to become the character of Ariel. Maples replied that she enjoyed stepping into Ariel's bubble. In fact, Marla Maples says she felt empowered on Dancing with the Stars.
Yes, queen.
It's a nice departure from how Maples is usually categorized on the show: former Mrs. Former Donald Trump. Audiences on Twitter have showed their frustration with the monicker the actress has acquired, and I can't blame them. Calling Maples "the former Mrs. Trump" is incredibly frustrating, sexist, and unnecessary (and also insulting to the current Mrs. Trump). While many argue that being The Donald's ex-wife is the role that made Maples famous, and it may even be true, it is still not the sum total of her being.
Maples and Dovolani scored straight sevens from the judges for their romantic dance interpretation of "Part of Your World." The Twitterverse, in general, seemed to agree that they were robbed. That dance was better than a seven.
This is why it was so nice to hear Maples say that she felt empowered by playing the character of Ariel. Ariel herself is a headstrong, independent character. She is a young woman who goes after what she wants (despite the well-meaning advice of her father and Sebastian). Though everyone tells her not to mess with Ursula and to stay safe and happy under the sea, Ariel is the only one who knows what she wants, and girl goes out and gets it.
By all accounts, Maples is also a woman who goes out and gets what she wants. She proved her independence when she and Trump divorced after less than 10 years of marriage. She and her daughter moved across the country and forged a whole new life for themselves. And these days, the lady is making some serious bank. From her roles in TV and movies, to her popular radio show, to her theater performances, Maples hasn't stopped going for the gold. Ariel would be proud.