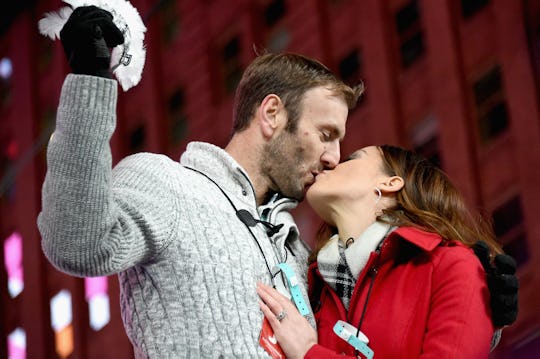 Mike Coppola/Getty Images Entertainment/Getty Images
'Married At First Sight's Jamie Otis & Doug Hehner Are Officially Parents
While America may be on the brink of nuclear war, not everything is bad. Yes, there is still good in the world, and today, that good is brought to you by Married At First Sight's Jamie Otis and Doug Hehner who have officially welcomed their baby daughter! And her name is adorable.
Henley Grace Hehner entered into the world on Tuesday, Aug. 22, at 5:24 a.m. in a New Jersey hospital, according to a representative for the family. "Mommy and baby are doing well and Daddy is in pure bliss," the rep told People. And while baby Henley may be brand new, her name has been a long time coming. According to Otis, the name was inspired by the couple's first morning together:
When Doug and I first got married — we were married at first sight, so we didn't obviously know each other very well — and the first morning, we wake up and he goes, 'You're Jamie Nicole Otis, and I'm … 'Douglas Edward Henley?'
After we fell in love, we would laugh about it all the time. He'd always pick on me that he knew my whole name, but I couldn't remember his.
And clearly, being married at first sight has worked out well for these two. Because three years, and countless life events later, they're happier than ever.
Unfortunately, the couple know very well how fragile life is, and how special childbirth is as well, as Henley is their rainbow baby. In 2016, Otis lost her and husband Hehner's baby when she was four months pregnant with the little boy. Since then, Otis has shared touching messages about her miscarriage, and what Henley's birth means to her after it all.
Now, though, the couple can celebrate the birth of their healthy baby girl, and take the time to soak in all of her sweetness. Obviously Otis, 31, and Hehner, 33, are set to become great parents to little Henley and it's clear that they are already head over heels in love.
As for Hehner, being surrounded by women seems to be just what he is best suited for. "Every one of my guy friends say there is this unexplained special bond that happens with a daughter," Hehner told People. "They don't know what it is, but it's an amazing feeling, and I cannot wait."
Congratulations to Otis and Hehner, and welcome to the world little Henley!