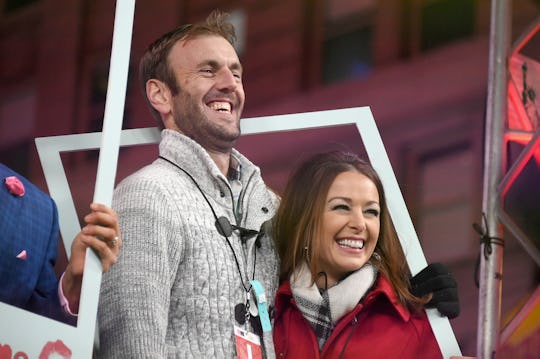 Mike Coppola/Getty Images Entertainment/Getty Images
'Married At First Sight's Jamie Otis Reveals Miscarriage Due To A Chemical Pregnancy
From the moment you see that first, faint positive pregnancy test after actively trying to conceive, everything changes: You're going to have a baby! Suddenly, you're imagining life with a child (or another child) in the picture — and you can't wait to watch those pink lines get darker in the coming weeks. Some people even start sharing their happy news right away with friends and family. But when those lines don't get darker, test after test, and eventually fade away entirely — followed by heavy bleeding — it can be utterly devastating. In fact, Married at First Sight's Jamie Otis revealed a miscarriage due to chemical pregnancy, just days after sharing a positive test.
As Us Weekly reported, Otis took to Instagram on Sunday, Sept. 2 to share the sad news with her followers. Along with a photo of the reality star snuggling with her sleeping daughter, she wrote, "Sorry I've been MIA, this very bizarre positive pregnancy test then negative test then faint positive lines gave me hope that Gracie was going to become a big sis in 9 months, but the night before last I began having terrible contraction-like pains & spotting. Then over the night full blown everything - if you know what i mean.😢." News of Otis' miscarriage comes just two days after she shared a photo via Instagram of what appeared to be a positive pregnancy test on Friday, Aug. 31.
Otis went on to explain that since she's a nurse, she suspected it might be a chemical pregnancy — and her midwife confirmed that's what happened. According to BabyCenter, a chemical pregnancy happens when a fertilized egg implants into the uterus and develops enough to start producing hCG, the pregnancy hormone that at-home tests can detect. However, for some reason the fertilized egg stops developing — usually as a result of defects that prevent it from growing normally.
Followers were quick to lift up the heartbroken mama with words of encouragement — as well as with stories of their own experiences with miscarriage. One Instagram user wrote, "Sending you lots of love today! You are in my thoughts and prayers that you have another healthy pregnancy. I know sharing your journey will help other women that struggle with infertility and who have experienced losses. We all love you and are sending your family lots of prayers.🙏💖"
Another Instagram follower shared, "My husband and I have been trying to get pregnant with the first one since April. I had one month of faint positive lines like you and got so hopeful that I was pregnant. No such luck...still trying... keep us in your thoughts 😊🤗"
"I don't know why some people have it seemingly SO easy to get preggers & carry their babies to term and others struggle?🤷🏻‍♀," Otis wrote on Sunday's Instagram post. "What i do know is that i am so, so thankful for this little girl [and her daddy] right here. It's like she knew mommy was in so much pain bc she just wanted to be held and snuggled all night long.👶🏼🌈🙏🏻" Otis explained that she and he husband Doug Hehner — whom she met on the first season of Married at First Sight — have to wait one cycle before they can try again. The pair welcomed a daughter named Henley Grace in August 2017, according to People.
Otis also shared that her most recent loss has made her more determined than ever to give her daughter a sibling, writing, "Has this happened to anyone else where you go through a loss & then all you want - the only healing thought - is to become pregnant with a healthy pregnancy?! This happened to me after our sweet Johnathan👼🏼💙 & the same feelings have come back.🙏🏻🤰🏼👶🏼🌈💗."
If you remember, Otis previously wrote about the miscarriage she experienced in 2016, when she was four months pregnant with her first child — a boy they named Johnathan, E! Online reported. The pregnancy didn't last past this point because there wasn't enough amniotic fluid, according to Woman's Day. "Our Baby Hehner was just too beautiful for earth. I love him so much - ALWAYS will - and can't wait to meet him in heaven one day. Please pray for us. 💔😢" Otis wrote on Instagram at the time of this loss.
As someone who has also experienced an early miscarriage, I can attest the experience can be heart-wrenching. Jamie Otis' experiences show that regardless if a woman is four weeks or four months along, the emotions surrounding a pregnancy loss can be both strong and complicated. My heart goes out to her and Doug Hehner as they grieve their loss and continue on their journey to adding another child to their family.