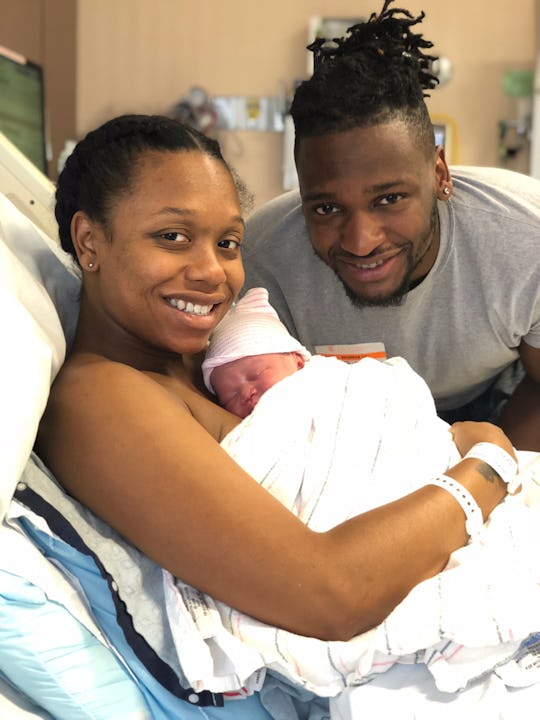 Kinetic Content
'Married At First Sight's Shawniece Jackson & Jephte Pierre Announced The Birth Of Baby #1
Almost everybody has heard of the phrase "love at first sight," but what about being married at first sight? Viewers may have doubted the new American reality series' premise, but for some of the couples, things are working out just fine! In a beautiful testimony to unconventional love stories, Married At First Sight's Shawniece Jackson and Jephte Pierre welcomed a baby girl, and she's so adorable.
The premise of Married At First Sight is simple: three couples paired up by relationship experts agree to marry at first sight. Shawniece Jackson and Jephte Pierre appeared together, and married, on the sixth season of the show. Not every couple placed together on the show decides to stick with it for the long haul, but Jackson and Pierre made the decision to stay together.
Right before the season's finale aired, Jackson revealed on April 24 that she and Pierre were expecting their first child together, as reported by Reality Tv World. "Recently it was announced that im expecting. Yes Baby P will be here some time in September," Jackson told her fans in an announcement, according to Reality Tv World.
As every mom can attest, though, babies arrive at their own pace! The happy couple welcomed their daughter, Laura Denise Pierre, on Aug. 20, according to People, and she could not be any more adorable!
Like most couples, Jackson and Pierre had their ups and downs during the course of their season on Married At First Sight. Their decision to remain married, though, was clear testimony to their willingness to work things out together. Jackson's pregnancy towards the season's finale reportedly came as a surprise to both of them.
"When I found out I was pregnant, I was absolutely shocked," Jackson told People in an exclusive announcement. "I was in the emergency room because I felt awful and had no idea what was wrong. They came back and told me all my symptoms were from pregnancy and that I was pregnant. I was totally shocked."
It seems that baby Laura is already dedicating to surprising her parents, considering she was also born three weeks early. Jackson welcomed her daughter into the world after five hours of labor. The couple's daughter weighed in at 5 lbs, 15 oz and measured 17 3/4 inches long, according to Us Weekly.
It was clear that Jackson and Pierre were excited for their daughter to arrive. On June 23, Jackson shared a maternity picture of herself in a beautiful lace dress, wearing a flower crown, captioned, "Dear Baby P, Mommy loves you."
The couple regularly used "Baby P" to refer to their unborn daughter, so her full name might come as a surprise. But, the reasoning behind Laura Denise Pierre is super sweet! According to People, the couple named their daughter in honor of Pierre's mom, Laura, and Jackson's mom, Denise.
That's definitely a gesture sweet enough to make any grandparent cry!
Only a few weeks prior to baby Laura's arrival, the couple had a super cute baby shower. Jackson uploaded a photo of herself and Pierre to her Instagram, captioned, "Thank you to all that attended Baby P's Shower. We appreciate everyone's love and support. Thank you Ma for turning your idea into real life. Auntie B & Josie for helping w/everything...Actually Thank you Everyone."
It's clear that this baby will be showered with plenty of love by her family. "Seeing my daughter and holding her for the first time was magical," Jackson told People. "Seeing my daughter for the first time was so overwhelming," Pierre added, according to People.
Fans are excited to watch as baby Laura continues to grow! And hey, maybe this adorable baby is a testimony to the power of being married at first sight.