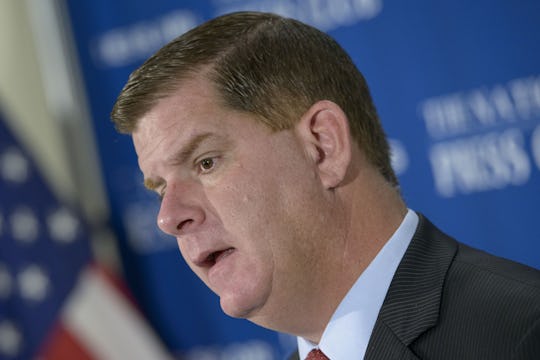 BRENDAN SMIALOWSKI/AFP/Getty Images
Marty Walsh Talked About Alcoholism At The DNC & It Was A Courageous Move
As Boston Mayor Marty Walsh took the stage at the Democratic National Convention on Monday, the last words that many expected to hear were: "Good evening, delegates. My name is Marty Walsh, and I'm an alcoholic." And yet, at a convention that seeks to connect the personal and the political, the individual family and the global family, it seemed perfectly fitting that Marty Walsh talked about his struggles with alcoholism on such a public platform.
Walsh's experiences with alcoholism have been well-documented, according to Boston Magazine. Though he has been sober for 20 years, he still attends Alcoholics Anonymous meetings, and his life story as a recovering addict has always been integral to his beliefs about public service. In an interview this week with The New York Times, Walsh stated that the conversation about addiction is at root a conversation about "second chances," and that, as a country, "we have to believe in second chances."
During his short DNC speech, Walsh impressively managed to connect the dots between the power of second chances, the overall philosophy of the Democratic party, and the shortcomings of Republican presidential nominee and real estate mogul Donald Trump. Detailing his entry into the "building trades" at the age of 18, Walsh described how "labor gave my immigrant family a chance." When Walsh was hitting rock bottom as an alcoholic, he said that "the labor community got me the help I needed and gave me a second chance."
Pivoting from this personal narrative, Walsh said that as mayor, he works to "give everyone a fair shot and a second chance." And then, pivoting again from city politics to national politics, Walsh added to cheers from the crowd, "There's no doubt in my mind that Hillary Clinton is the champion that American workers need."
It's no surprise that Walsh's speech focused on the labor movement and blue collar America. Since first taking political office in 1997 as a Massachusetts congressperson, Walsh has led on issues related to job creation, infrastructure improvement, and union relations, according to the biography at his mayoral website. It was in this context of discussing working-class America that Walsh's speech really gained momentum. Speaking with disarming earnestness, he said,
She [Clinton] will help workers get the skills, the jobs, and the child care they need to support strong families. She believes in an America that's not just for those with advantages. She believes in an America for those who need a helping hand: people struggling with addiction; moms working two jobs; students in debt; seniors struggling to retire; workers facing layoffs.
Having praised presumptive Democratic presidential nominee Hillary Clinton's stance on working-class America, Walsh then went in for a knock-out punch that seemed all the more powerful in his thick Boston accent. "We may not have our names in gold outside the buildings we've worked on," he said, "but our sweat, our work, our pride is on the inside of every single one of them."
Well put, Mayor Walsh. Well put.