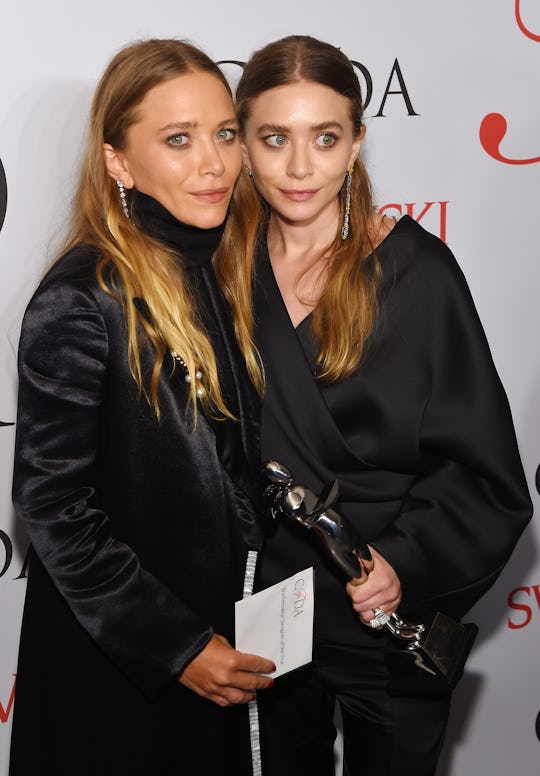 Larry Busacca/Getty Images
Mary-Kate Olsen Is Married! And Of Course, Her Wedding Reception Was Super Chic
According to Page Six, Mary-Kate Olsen and Olivier Sarkozy were reportedly married this past Friday in Manhattan. The two have been together for three years, but allegedly tied the knot at a private residence on 49th Street, the outlet reports. Page Six also reports that guests were allegedly asked to turn off their cellphones and to smoke as many cigarettes as they wanted. In fact, the former child star and the Frenchman reportedly had "bowls and bowls" of cigarettes around the place for guests and "everyone smoked the whole time." (Because why not, right?) Romper's requests for comment to Olsen's management team Sunday went unanswered.
Olsen, 29, and Sarkozy, 46, may have even jumped the gun — earlier this year, Us Weekly had reported the pair were planning a wedding in the Hamptons for 2016. But the outlet reports that they've changed plans "a million times." They first became engaged back in February of 2014, when Sarkozy proposed with a stunner 4-carat vintage Cartier diamond ring. Ever since, fans have been speculating on just where and when the two would make it official.
But as of Friday, it seems they've officially pulled the trigger. And aside from all the smokes, the reception sounds super classy. There were about 50 guests and a small dinner in a back garden. Still no word on who attended or photos of her probably ah-mazing dress.
Sarkozy is the brother of former French President Nicolas Sarkozy and has two children from a previous marriage to Charlotte Bernard. Big age gaps are always a little weird, but the Olsen sisters seem to dig older dudes. In 2014, MK's sister Ashley began dating Bennett Miller, who directed Moneyball and Foxcatcher. He's 19 years her senior, making the age gap between the pair even bigger than the one between Mary-Kate and Sarkozy.
All that aside, you can't deny Mary-Kate and and her newbie hubs do look good together:
The heart wants what the heart wants, right? Whether it's a dashing older dude (or bowls of cigarettes), who's to judge?
Image: Larry Busacca/Getty Images