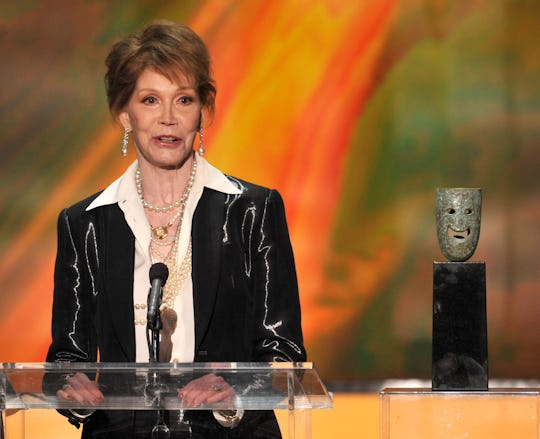 Kevin Winter/Getty Images Entertainment/Getty Images
Re-Visit Mary Tyler Moore's Last Major Appearance
As if 2017 wasn't already off to a rocky start, TV icon and all-around superstar Mary Tyler Moore passed away on Wednesday, after being hospitalized in Connecticut. Moore, who was 80 at the time of her death, was a famed actress, producer, wife and mother beloved by many. Moore rose to fame when she starred on The Dick van Dyke Show starting in 1961, and quickly moved on to star in her own namesake show, The Mary Tyler Moore Show, in 1970. But it was Moore's last appearance that proved exactly why she will be missed.
"Today, beloved icon, Mary Tyler Moore, passed away at the age of 80 in the company of friends and her loving husband of over 33 years, Dr. S. Robert Levine," Moore's longtime representative Mara Buxbaum told Romper, in a statement. "A groundbreaking actress, producer, and passionate advocate for the Juvenile Diabetes Research Foundation, Mary will be remembered as a fearless visionary who turned the world on with her smile."
Sadly, Moore's last television appearance was on a special episode of Hot in Cleveland, which aired in September of 2013, two years before the show ended. The title of the episode in which Moore guest starred in, "Love is All Around," was also the title of the theme song for The Mary Tyler Moore Show, a subtle reminder of the independent powerhouse Moore has been for the majority of her career.
Moore's namesake show made waves in the 1970s for being one of the first (and only, at the time) television shows to feature a single, career woman at it's center. Moore, who starred as Mary Roberts, broke a lot of long-standing stigmas surrounding single women at the time, with episode themes centering around relationships, birth control, and the wage gap for working women.
After Moore's last appearance in 2013, reports came out of the actresses longtime struggle with Type 1 diabetes, which she was diagnosed with when she was only 33, and how the disease was proving itself to be crippling for Moore. In 2014, it was reported that Moore was going blind from diabetes, and her health was further unraveling at a scarily high rate.
Moore was highly adored by fans all over the world for her ability to captivate the audience, and was also well-known for being one of Oprah Winfrey's biggest idols. In fact, one of Moore's most iconic TV appearances was when she surprised Oprah on her on show, back in 1997.
While Moore will be missed my thousands, we can take comfort in knowing that she is no longer in pain, and was surrounded by loved ones when she passed.
Keep smiling, Mary, we'll miss you.