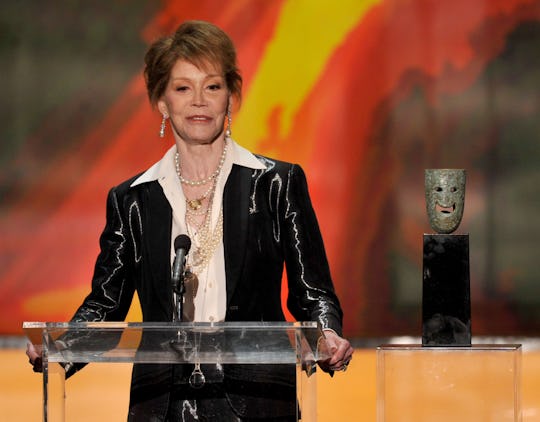 Kevin Winter/Getty Images Entertainment/Getty Images
Mary Tyler Moore's Net Worth Is Impressive
Actress Mary Tyler Moore reportedly died on Wednesday, according to her publicist. She was well known for her role on The Mary Tyler Moore Show and for her role as Laura Petrie on The Dick Van Dyke Show, according to the New York Daily News. And Mary Tyler Moore's net worth reflects this long and pioneering career — it's quite impressive.
Moore's longtime representative Mara Buxbaum told Romper in a statement:
Today, beloved icon, Mary Tyler Moore, passed away at the age of 80 in the company of friends and her loving husband of over 33 years, Dr. S. Robert Levine. A groundbreaking actress, producer, and passionate advocate for the Juvenile Diabetes Research Foundation, Mary will be remembered as a fearless visionary who turned the world on with her smile.
Moore's net worth is an estimated $60 million, according to net worth website The Richest. The site reported that Moore's first job was as a dancing elf on a Happy Hotpoint commercial. She reportedly danced for the beginning and end of commercials advertising for kitchen appliances (yes, that is really true). She reportedly had to stop the job because she became pregnant, and it was difficult to hide her pregnancy in her elf costume (sigh). She gave birth to her first son, Richie, when she was 18, according to People.
Her first "big" break, though, was on The Dick Van Dyke Show during the '60s, and then her big leading role was in The Mary Tyler Moore Show in the '70s, when she played a single TV producer named Mary Richards, according to the Huffington Post. The show was reportedly full of references to the women's rights movement, the Post reported. When Moore was asked whether her character was a feminist in a CNN interview, she said:
She wasn't aggressive about it, but she surely was. The writers never forgot that. They had her in situations where she had to deal with it.
Aside from her work in TV and film, Moore also wrote two memoirs, according to the New York Daily News. She was also diagnosed with Type 1 diabetes at 33, and later became the international spokesperson for the Juvenile Diabetes Research Foundation. In a 2009 interview with USA Today, she said that being diagnosed with diabetes taught her that the public's perception of the disease is incredible lacking in information:
When the doctor said I had diabetes, I conjured images of languishing on a chaise longue nibbling chocolates. I have no idea why I thought this.
In both her philanthropy and her groundbreaking work as a woman in TV, Moore made an impact, and she will not be quickly forgotten.