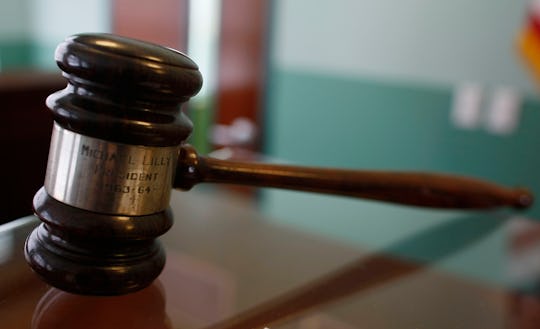 Joe Raedle/Getty Images News/Getty Images
Maryland Changes Its Dangerous Sexual Assault Law
On Tuesday, Maryland Gov. Larry Hogan signed a bill that finally changes the state's definition of rape — meaning Maryland sexual assault victims no longer need to prove they physically fought their attackers in order for rape to count as rape in the eyes of the law. Maryland's sexual assault law change is undoubtedly a victory for survivors — but how do other states' laws stack up when it comes to navigating the waters of consent and resistance?
Maryland's previous law — and others like it — echo antiquated laws that required rape victims to prove they showed "utmost resistance" to their assaults, according to Mic. While many of those laws have disappeared or been softened into a requirement of "reasonable resistance," many states still define rape as something that occurs only when a perpetrator uses force or threatens to use force.
For instance, South Carolina doesn't define "spousal sexual battery" as simply one party saying no: in order to prosecute the crime, there needs to be the "threat of use of a weapon" or "physical violence of a high and aggravated nature," according to the Daily Beast. Even outside of a marriage, a person is only guilty of "criminal sexual conduct" if it's proven that aggravated force was involved — or if the victim was also kidnapped, trafficked, or physically or mentally incapacitated, according to RAINN. Just saying "no" doesn't count.
Idaho's sexual assault laws will allow prosecution of a sex crime if "the victim resists but the resistance is overcome by force or violence" or if the victim is threatened. Louisiana rules that a sex crime has occurred "when the victim resists the act to the utmost, but whose resistance is overcome by force" or if threats keep a victim from resisting, according to RAINN.
And those laws are not limited to Idaho and South Carolina alone: according to RAINN's directory of consent laws, the majority of states define lack of consent as either unconsciousness, mental or physical impairment, or the use of force. Several do not define what constitutes "consent" at all, and only a handful of states require "freely given consent" or "affirmative consent," including California, Florida, the District of Columbia, Illinois, Minnesota, New Hampshire, New Jersey, Washington, and Wisconsin.
When someone has been through sexual assault, the burden should absolutely not be on them to prove that they were drugged, forced, threatened, or hurt, and American laws should reflect that. We teach our kids that "no means no." In the horrible case of sexual assault, they should never have to head to police or court only to find out that, actually — in the eyes of the law — "no means no" doesn't really count.