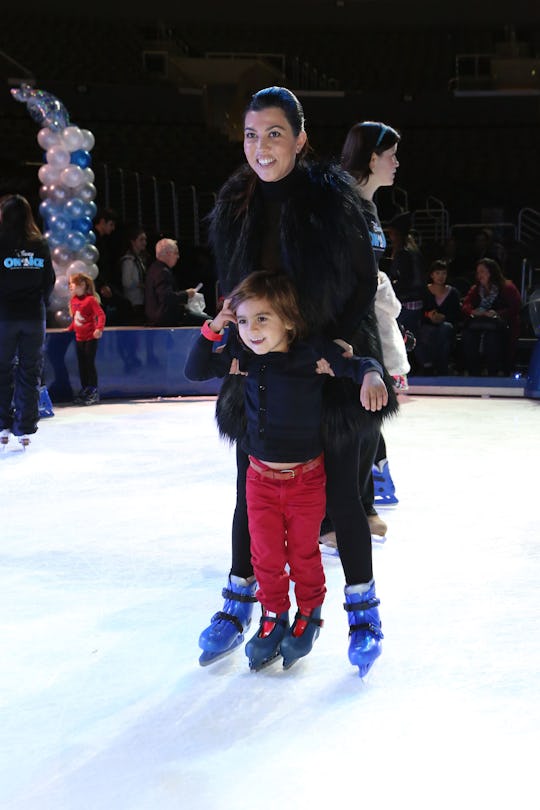 Mason Disick's Haircut Is Pretty Dope, & 6 More Celeb Kids Rocking Their Personal Style
The youngest Kardashians are growing up so fast. Kourtney Kardashian's son Mason, now 5 and in kindergarten, is IMHO the star — yes, star — of Keeping Up With the Kardashians', but his new 'do proves just how grownup he's getting. Mason Disick has a new haircut, first unveiled in early October, and a photo Kourtney Kardashian shared on social media Wednesday suggests that Mason's half-shaved head is here to stay. The photo, captioned "Hair" with a scissors emoji, makes it seem like Kourtney is letting Mason keep the new look intact — he might even have had a trip to keep it looking tight.
The half-and-half look isn't exactly surprising from the young Mr. Disick. Mason's hair has always turned heads. Before his most recent cut he was rocking a long, shaggy style — with sun-kissed, and completely natural, golden highlights. But Mason's new cut shows off his edgy, "this is me" side — and, not that it matters, but I love it. (I am, uh, biased though...since I have the exact same cut.)
Let me tell you what's great about this style for Mason: It's half traditional boy cut, half longer locks, so it's gender nonspecific, and Mason's parents seem pretty committed to letting him be who he's going to be. It's also unexpected on a kid, so it gives Mason an opportunity to show off is personality (which can be hard to do family of bigger personalities). Many parents say no to out-of-the-box style requests from their kids, and that's understandable: it takes a while for a dramatic cut to grow out, and it can be expensive to undo a particularly extreme color job. But letting your kid choose their own style is also a great way of saying that you support their identity and choices and that you're not afraid of what other people think.
Regardless, there is no doubt Mason's style can be summed up in two words: killin' it. And here are six other kiddos whose fashion-sense may be superseding their celeb parents':
Prince George of Cambridge
Prince William and Princess Kate may be the most stylish royal couple to rock the United Kingdom in years, but even Kate's fashion sense takes a back burner when in the presence of her son, Prince George. (And we are sure the same will happen when we see more of Princess Charlotte.) Granted, George's style is traditional, but you can't argue the quality of his clothes — or his color coordination.
Maxwell Simpson & Ace Knute Simpson
The children of Jessica Simpson and Eric Johnson, Ace (pictured) and Maxwell are possibly the most adorable celeb siblings I have every seen. I mean, look at that hat...and his hair! Ah!
Blue Ivy Carter
One word: Fierce! This picture leaves me speechless and, honestly, can you imagine all the potential this little powerhouse has?
North West
North West may be the most stylish ballerina of all time, and while most of the attention showered on the Kardashians is on Kimye, I'm pretty sure this little angel makes everyone stop in their tracks.
River Rose Blackstock
While she is just over a year old, this little beauty has been threatening to upstaging her mother (singer Kelly Clarkson) since the day she was born. It's not you, Kelly, it's that she's just soooo cute.
Images: Ari Perilstein/Getty Images Entertainment; Chris Jackson/Getty Images Sport; kourtneykardash, jessicasimpson, beyonce, kimkardashian, kellyclarkson/Instagram