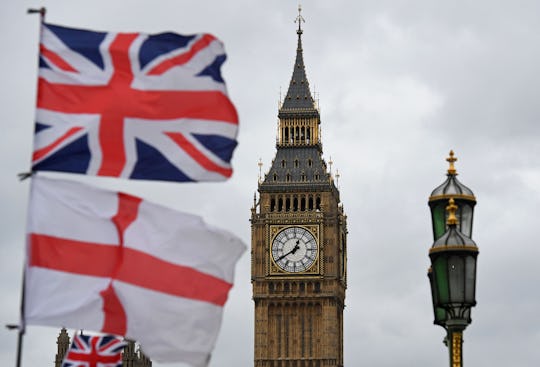 BEN STANSALL/AFP/Getty Images
Mass Stabbing In London Leaves At Least One Dead & Many Others Injured
Yet another tragedy has struck, this time on foreign soil. On Wednesday, authorities reported that a mass stabbing in London had left at least one woman dead and many others injured. Officials say they are now investigating whether the act was terror-related.
Update: In new reports, authorities have confirmed that the number of those injured in Wednesday's stabbing attack had been reduced to five; A Scotland Yard spokesperson, Mark Rowley, (Britain's most senior counter-terrorism officer, according to The Guardian) told reporters that "mental health [was] a significant [motivating] factor" in the incident and that terrorism was "just one line of inquiry," according to BuzzFeed News. In a statement to reporters, the spokesman noted: "Six people have been injured, including the one woman who sadly died at the scene and the others have received various injuries. The deceased woman is in her 60s ... A 19-year-old man was arrested shortly after 10.39pm and is currently in police custody at hospital.
...At this stage we should keep an open mind regarding motive and consequently terrorism as a motivation remains but one line of inquiry for us to explore. At present the Met's homicide command are investigating the incident but at present are supported by our counterterrorism unit. As a precautionary measure tomorrow, Londoners will wake up and in the morning they will notice an increased police presence on the streets, including armed officers. This is there to provide reassurance and safety. We ask the public to remain calm and vigilant and alert."
According to The Guardian, Metropolitan Police "confirmed that at least six people were injured" in the stabbing incident which occurred in Russell Square in London. A man has been arrested and according to police, "terrorism is one possibility being explored at this stage."
And yet, among all the facts, there is still so much more that everyone out there has to learn about the attacks. At such an early stage in the investigation, there is little people know about other than the statement released to The Guardian by the police. The attack happened in the London borough of Camden, at 10:33 p.m. local time. According to the BBC, a taser was discharged by one of the arresting officers on the scene.
There is not much more information about how or why the attacks occurred when they did. However, as more information and eyewitness reports continued to be released, the hazy details will become a lot clearer. Details like those pertaining to to motive, the attacker's identity, and who the victims were will become more apparent in due time.
This attack comes on the heels of news today that a larger number of armed police would be more frequently seen on patrol in London. According to the BBC, an increased number of armed police would "reassure the public and deter attackers following terrorist attacks in Europe." These new officers were announced to be put in place by April 2017. But now, it seems the city of London will have even more of a reason to have these officers patrolling the streets.
While the details of the victims involved in the attack and the purpose of the attack seems to be unclear, one thing is obvious: Innocent lives were taken on Wednesday night in Camden Square. As the loved ones of the victims begin to grieve, it is important that everyone else can come together out of respect and support for those who have passed.
There is still so much people are wanting to know and still so much that has yet to be released. However, in moments of extreme helplessness, like now, there is only so much people can do but to pray or grieve and do whatever possible to help the families and loved ones of those affected.