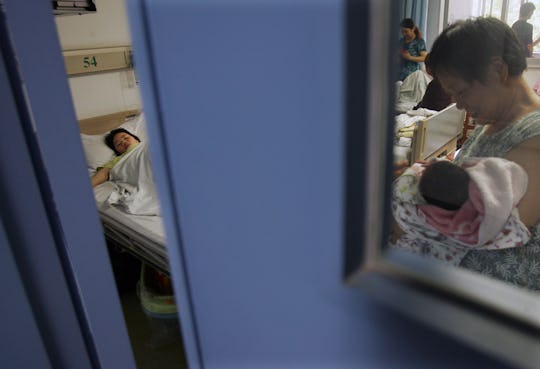 China Photos/Getty Images News/Getty Images
Maternal Morality In Anti-Abortion Countries Isn't Low
Every day around the world, about 830 people die from preventable pregnancy- or childbirth-related complications. This is a far lower number than what public health officials have recorded two decades ago, but is still too high. Though the majority of cases occur in regions with poor medical care, the maternal mortality rate in countries without abortion access suggests that uninhibited reproductive health access is key to reducing deaths significantly.
According to the World Health Organization, the maternal mortality rate plunged by about 44 percent between 1990 and 2015. But if you analyze data available by the World Bank, the drop in rates vary significantly between countries. In the Dominic Republic, where abortion is illegal entirely, the number of cases of maternal deaths fell dramatically between 1995 and 2002 — from 198 per 100,000 live births to 66 — but fluctuated over the last 13 years of available data. Maternal mortality rates in the country spiked to 115 cases per 100,000 live births in 2013 before dropping slightly in 2015.
Similar patterns can be observed in the five other countries that, according to the Pew Research Center, ban abortion in all cases: Chile, El Salvador, Nicaragua, Malta, and Vatican City. In Malta, for example, maternal mortality rates rose between 1994 and 1998, but have steadily declined over the last 17 years. Still, it has only been a small drop, according to World Bank — from 16 cases per 100,000 live births to nine cases as of 2015.
The data would suggest a correlation between abortion access and maternal mortality rates. Countries that have banned the procedure entirely show smaller declines than those regions that have not. But you can also find this link in nations that have severely limited abortion rates, such as Ireland and the United States. A recent study published in Obstetrics & Gynecology found that maternal mortality rates in America are actually on the rise, while 166 out of 183 countries surveyed reported decline in deaths. In fact, the World Bank shows that the number of maternal mortality cases in the United States climbed from 11 per 100,000 live births in 1996 to 15 in 2009 and has stayed steady at 14 cases per 100,000 births since then. (Although most countries with abortion bans have higher maternal death rates, those regions are still see a decline in numbers, unlike America.)
This is a significant piece of information when considering how abortion access affects maternal health. Republicans in the United States have threatened reproductive healthcare over the last two decades, ramping up their efforts in the last 10. Over that time, severe restrictions placed on abortion rights have caused hundreds of family planning clinics to shutter, leaving millions of people in the country without access to maternity and preventive care services. According to the Guttmacher Institute, the number of states hostile to abortion rights more than doubled between 2000 and 2014. And in the last four years alone, states have enacted 231 abortion restrictions, Guttmacher reported. Reproductive health advocates claim this onslaught of anti-abortion laws have contributed to a rise in pregnancy- or childbirth-related deaths.
If you have any doubts about the effects of abortion access on maternal death rates, look at Texas. The hard-line red state has some of the toughest restrictions on abortion care and also the highest rates of maternal death per 100,000 births as of 2016, according to The Guardian. And new data released by the Texas Maternal Mortality and Morbidity Task Force found that black pregnant people in the state "bear the greatest risk for maternal death," Rewire reported.
Pregnant people shouldn't have to die because lawmakers are playing God with their access to healthcare. If states and countries want to reduce maternal mortality rates, then they need to rethink how they treat abortion care.