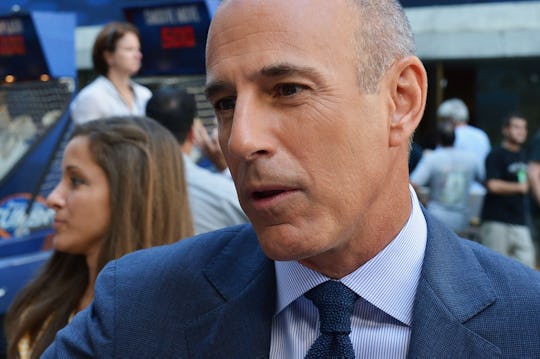 Slaven Vlasic/Getty Images Entertainment/Getty Images
Read Matt Lauer's Public Apology After Being Fired From NBC
On Wednesday, NBC announced that it fired longtime TODAY Show host Matt Lauer after reports of alleged sexual misconduct. Less than 24 hours after his ousting, Lauer issued a public apology, which co-host Savannah Guthrie read during the first hour of The TODAY Show. (A representative for Lauer did not immediately respond to Romper's request for comment.)
In the statement, Lauer does not deny the claims that have come out about inappropriate behavior. Instead, he takes some responsibility, but he also said that some of the claims about him are "untrue and mischaracterized." Lauer said, in a statement issued by his publicist according to Variety:
There are no words to express my sorrow and regret for the pain I have caused others by words and actions. To the people I have hurt, I am truly sorry. As I am writing this, I realize the depth of the damage and disappointment I have left behind at home and at NBC. Some of what is being said about me is untrue or mischaracterized, but there is enough truth in these stories to make me feel embarrassed and ashamed. I regret that my shame is now being shared by the people I cherish dearly.
Lauer continued his statement, saying, according to Variety:
Repairing the damage will take a lot of time and a lot of soul searching and I'm committed to beginning that effort. It is now my full time job. The last two days have forced me to take a very hard look at my own troubling flaws. It's been humbling. I am blessed to be surrounded by the people I love. I thank them for their patience and grace.
On Wednesday, during an hour of The TODAY Show where Lauer would normally host, his co-host Guthrie announced that Lauer had been fired after an NBC employee filed a complaint about "inappropriate sexual behavior in the work place," according to CNN. "We are devastated," Guthrie said about the news. "We were both woken up with the news kind of predawn," Guthrie's co-host, Hoda Kotb said, according to CNN. "And we're trying to process it and make sense of it. And that will take some time." Shortly thereafter, NBC News Chairman Matt Lack said in a staff memo that NBC was presented "with reason" to believe that the complaint "may not have been an isolated incident," according to CNN.
In the past 24 hours, both Variety and The New York Times have published their own investigations into the claims, and people also think videos unearthed from old Lauer interviews seemed to foreshadow the harassment claims, though that's entirely speculation. Three women identified themselves as alleged "victims of sexual harassment" to Variety throughout a two-month investigation and dozens of interviews with current and former NBC employees contributed to their claims. According to The New York Times, two new claims of sexual misconduct were brought to NBC after the news broke that Lauer had been fired.
But these alleged complaints, and Lauer's subsequent statement, show that people are being held accountable for their actions and are, to some extent, taking responsibility for what they have done. The popularity of the #MeToo movement, where people shared their own stories of sexual assault and sexual harassment in mid-October (though it originally started a decade ago), showed that victims no longer have to be afraid of staying silent.
Lauer had been co-hosting The TODAY Show for 20 years, since 1997, according to CNN. Surely to a lot of viewers, this isn't the easiest thing to process. But Lauer's absence and his statement show that now is the time for people to take a look at their actions. There is still so much more that needs to be done, but this sends a strong message that things are getting done.