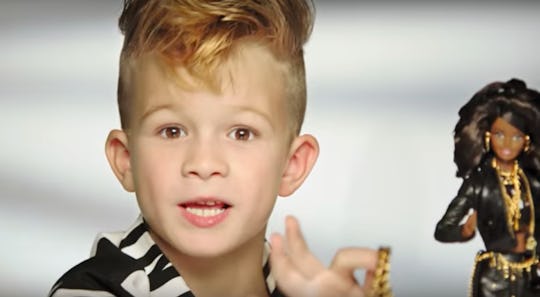 Moschino Official/YouTube
Mattel's New Barbie Ad Features A Boy, & It's About Time
Barbie has been a childhood staple for more than 50 years. She has been enjoyed by girls, played with by boys, and appreciated by many generations. But that doesn't mean Barbie is immune to controversy: In 1997, the toy underwent a makeover to have "more realistic" measurements, and being a "girl's toy," she has long been the center of the great gender debate. At least until recently. That all changed this week when Mattel released a new Barbie commercial, featuring the first boy ever to be used in one of their marketing campaigns. It's about time!
The spot, which swiftly went viral Tuesday, is an ad for Moschino Barbie, a limited-edition Mattel/Moschino collaboration. In the commercial, two girls and one young boy admire the doll's designer look. The boy — who sports and adorable mohawk — exclaims "Moschino Barbie is so fierce!" before placing a small black purse on her arm. After Moschino Barbie's mini-cell phone rings, the boy says "It's for you Moschino Barbie!" places the prop to her ear, and gives the camera a coy wink to close out the commercial.
This move by Mattel appears right on the heels of other recent pushes for gender neutrality — namely those of Target and Disney, which removed gender labels from their toy aisles and clothing this year. It seems fitting then that Mattel is featuring a young boy in this particular ad campaign, considering Jeremy Scott — creative director of the Italian luxury fashion house Moschino — credits Barbie for his current career. In an interview with People StyleWatch, Scott said:
The thing I love about Barbie is that she is the ultimate muse and inspired me to become a designer. Moschino style is all about humor coupled with high fashion and Barbie allows us to play out these looks in whole new way.
Just 700 of these were made, and even with a $150 price tag, they sold out less than an hour after they went on sale on November 9.
Even though I can no longer get one (which is kind of a bummer), kudos to you Mattel. Way to make a "fierce" statement.
Image: Moschino Official/YouTube