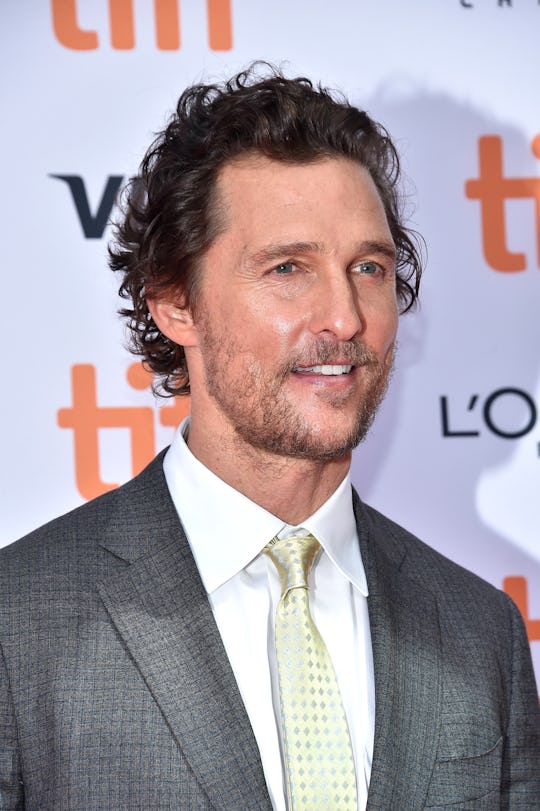 Mike Windle/Getty Images Entertainment/Getty Images
Matthew McConaughey Dancing At The CMAs Is The Only Thing You Need In Your Life
When Beyoncé performed at the 2016 Country Music Awards, everyone was excited — including actor Matthew McConaughey. McConaughey was was in attendance at the award show's 50th anniversary broadcast to present an award, and was caught enjoying himself quite a bit during Beyoncé and the Dixie Chicks' performance of the hit "Daddy Lessons" off Beyoncé's recent album Lemonade. You might not have known it before, but Matthew McConaughey dancing at the CMAs is the only thing you need right now. And to put it in McConaughey's own words, his dancing was "alright, alright, alllllllriiiiight."
Seriously, it's a gif that you'll want to save and use as a reaction for everything. It is that good. In the original video clip from Wednesday night, McConaughey is seen dancing along to "Daddy Lessons" and getting really into the song. But McConaughey's dancing is not like any conventional dancing you might see from award show attendees — it isn't a shuffle or some average dad-dancing. Nope. McConaughey gets into it.
Standing in the CMA audience with his wife Camila, McConaughey is seen beating on his chest along to the song's rhythm, moving his head along with his body along with the beat. The expression on his face is intense too. Honestly, it looks like he could be two seconds away from jumping up on stage with Beyoncé and jamming along with her and the Dixie Chicks. (In short, Matthew McConaughey is all of us.)
McConaughey's wife Camila is just as enthusiastic and into Beyoncé's performance, grooving and clapping alongside her husband to the song — although she looks a lot less focused and intense when compared to her husband. While the two seem a little out of synch with the beat — it doesn't matter. McConaughey's facial expression, intensity (seriously, look at that stare-down), and skilled chest-drumming make up for it.
McConaughey isn't a stranger to this kind of chest-beating, nor is he a stranger to playing music. During an unforgettable scene in the 2014 film, Wolf of Wallstreet, McConaughey, as character Mark Hanna, beats on his chest in a crowded restaurant and hums along. According to Cinema Blend, that chest beating wasn't written in the script — and that is actually something that McConaughey does to prepare himself for his scenes. It's no surprise then that his performance in the film and in the audience at the CMAs are practically the same — because McConaughey was relaxed and having fun both times. One could even argue that during Beyoncé's performance, McConaughey was just simply showing off his percussion-based talents.
It is clear that McConaughey very much enjoyed himself, along with many others, during Beyoncé's performance at the CMAs. Luckily, those who missed it or want to see it again can relive McConaughey's impressive dancing and drumming skills over and over again, thanks to the internet. It's the only thing you need in your life at this point, be honest.