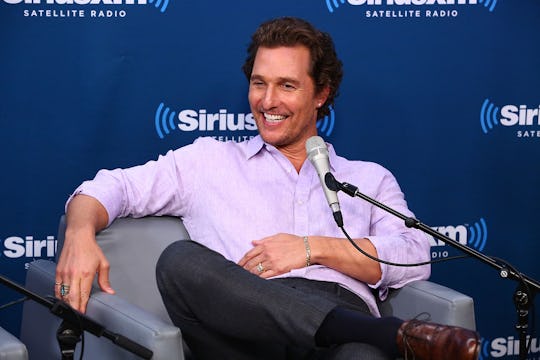 Astrid Stawiarz/Getty Images Entertainment/Getty Images
Matthew McConaughey's Parenting Style Is 'Alright, Alright, Alright'
Parenting styles are as unique as the children they impact. Strict, friendly, compassionate, and fun — most parents are a blend of these and many other traits. As for Matthew McConaughey, he said he mixes a little "alright, alright, alright" in with his parenting, and it totally works for him. A A blend of discipline and flexibility help him and his wife Camila bring up their three children in a style all their own.
While appearing on the TODAY show, McConaughey explained that they focus on a "moral bottom line" of individuality when it comes to their two sons, 5-year-old Livingston and 10-year-old Levi. and their 8-year-old daughter Savannah Guthrie. "The main thing is that my wife and I, Camila, we have a similar moral bottom line. And as you learn, if you have kids, every day they get older, you realize how much more it's really DNA," he said in his interview with TODAY.
McConaughey went on to explain that he and his wife "can nudge 'em and shepherd 'em, et cetera et cetera, but they are who they are." Overall, the couple is happy to have three healthy children, each of whom is an individual. They celebrate what makes their kids unique and help them to grow into themselves.
Discipline is a very important part of their approach, though. The dad-of-three told Fatherly that he wants his kids to understand that their actions have consequences, regardless of who they parents may be:
I'm a fan of responsibility and I'm a fan of consequences to prepare [my kids] for when they're out of our house at 18. Because [in] the real world, you can do the same deed and it doesn't just give you a demerit, you can end up in jail or worse.
The family's latest obsession is swing dancing, he said. "It usually involves a lot of cooking. We stay home, we cook a lot. And then music," he said. "It really gets nice when it turns into, after the movie, into a bit of a dance party. That's when we're really rockin'."
He went on to explain to Fatherly that despite his fame, he chooses to keep his family largely out of the limelight. As he told People, they opt for low-key family nights in and quality time together instead. Their Friday "no curfew nights" involve food, movies, and dancing:
It's pizza night, it's a movie night, it's 'all the kids can sleep with Mama and Papa night.' That night can go late. Sometimes we have to lie about the time and say it's midnight when it's really 10 'cause we can tell it's gonna go to 2.
And rather than drag his wife and kids to work functions — which would arguably be a lot more fun than most parents' work functions — when they're not relaxing at home, McConaughey seems to prefer to take them on some awesome vacations. Some of their more recent adventures include Walt Disney World, a jaunt over to Greece and the beaches of Mykonos, and to see his wife's side of the family in Portugal. But it's not all about fun for their getaways, though. As McConaughey told Jimmy Fallon on the Tonight Show, the kids do some prepping for their getaways:
The kids are taking Portuguese classes for the last week. They already know a lot of Portuguese, but they're taking Portuguese classes five hours a day for the last week in prep for going on this trip.
Okay, but really — can Matthew McConaughey be my dad? Because it sounds like he and his family have a blast together and I want in on some of that quality time. Vacations, swing dance parties, and pizza — what more could you ask for?