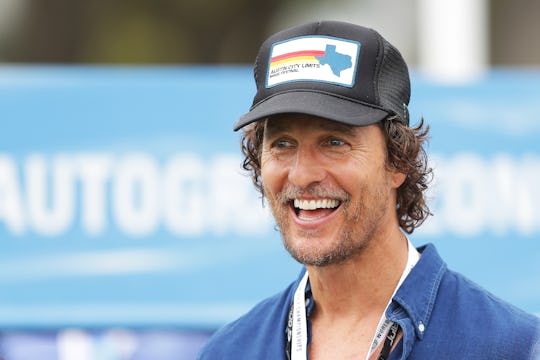 Richard Heathcote/Getty Images Entertainment/Getty Images
Matthew McConaughey's Quick Thinking Saved His 6-Month-Old Son From The Wrath Of A Ram
Matthew McConaughey isn't one of those celebs who puts on an act during interviews, and he's not afraid to lay his cards on the table concerning anecdotes about his family. Case in point: Matthew McConaughey admitted to throwing his baby "15 feet in the air" to dodge a charging ram during a visit to the Grand Canyon for his 40th birthday, according to HuffPost. Believe it or not folks, that *wild* incident really happened. Classic Matthew McConaughey, right?
McConaughey stopped by The Tonight Show on Tuesday to play Jimmy Fallon's always revealing game of "True Confessions." The game involves two players guessing whether random facts about one another are true or not. After a player reads a statement about themselves, the other player gets the chance to ask follow-up questions about the anecdote to uncover the truth.
McConaughey is the perfect candidate for the bit because like I mentioned earlier, he has an uncanny knack for the truth. Plus, the dad-of-three has a treasure trove of unbelievable stories ready to go for a game like this one, and I imagine The Tonight Show's producers were ecstatic to have him on as a guest. Want some proof? McConaughey's random fact involved an angry ram, the Grand Canyon, and tossing his then 6-month-old son, Levi, up in the air to avoid death.
"I got charged by a mountain ram at the edge of the Grand Canyon and had to throw my 6-month-old child 15 feet in the air to save him," McConaughey told True Confessions' opposing player, the Roots' Tariq Trotter, according to Rolling Stone. Say what, now?
Basically, McConaughey was enjoying a 40th birthday picnic at the Grand Canyon with his wife, Camila Alves and Levi when an "alpha" mountain ram appeared seemingly out of nowhere, according to TIME.
McConaughey was holding the family's dog and Levi in his arms when the irritated animal approached, a predicament that inspired some quick thinking and drastic measures. "I had to, after I had already got rid of the dog, I had to launch Levi through the air for my wife to catch so we didn't get rammed off the edge," McConaughey revealed while recounting the story to Trotter, according to Entertainment Weekly.
After McConaughey assured an unbelieving Trotter that the tale is "100 percent true," he shared how he managed to evade the ram once Levi was safe and sound with Alves. "I squared off and tried to go as Yoda as I could with this ram and just say, 'Not me, whatever it is,'" he elaborated, according to E! News.
Luckily, McConaughey made it out unscathed, and he was honest enough to admit the scary situation was kind of his fault. "So we were between him and all his ladies and he didn't want any other male scent on his mountain," he confessed, according to PureWow. "I was like, 'Your mountain, sir.'"
Following McConaughey's head-to-head with the ram, he now keeps his downtime with his kids — Levi, 10, Vida, 8, and Livingston, 5 — fairly chill. McConaughey said about the family's nights in, according to People:
It usually involves a lot of cooking. We stay home, we cook a lot. And then music. It really gets nice when it turns into, after the movie, into a bit of a dance party. That's when we're really rockin'.
Aww, how cute. It's sweet to imagine McConaughey rocking out with his gaggle of little ones.
The actor also revealed his definition of living life on the edge has shifted a bit these days, telling TODAY's Savannah Guthrie: "Friday night's the no-curfew night. It's pizza night, it's a movie night, it's 'all the kids can sleep with Mama and Papa night.'"
Hmm ... it sounds like no-curfew night with three kids under 11 might be more dangerous than squaring off with a territorial ram. *Shrugs*
So, here's to Matthew McConaughey's bravery at home and while battling rams at the Grand Canyon. It's clear this dad is a real life superhero.