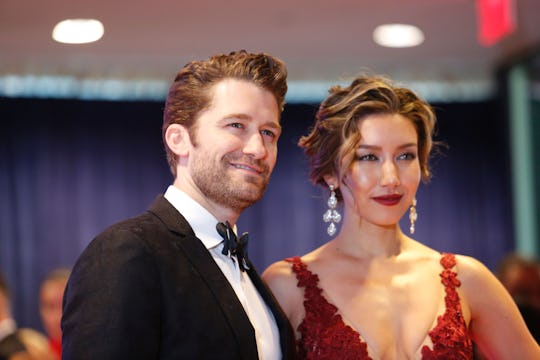 ANDREW BIRAJ/AFP/Getty Images
Matthew Morrison & His Wife Welcome Their First Child & OMG, His Message Is Too Sweet
Don't stop believing, world! One former Glee star is officially a new father and his announcement proves he could not be more thrilled. That's right, Matthew Morrison and wife, Renee, welcomed their first child and it's clear that they're already destined to become great parents. Morrison and his wife, Renee Puente, welcomed their first child, son Revel James Makai Morrison on Oct. 12, both taking to social media on Sunday to post happy updates about the new arrival.
Puente, a model, posted a photo of tiny little Revel being held by Morrison, writing, "I'm in Revel Heaven... my heaven on earth... to give you life, to hold you in my arms, to comfort you, to feed you from my body.. I can't begin to express my immeasurable gratitude for being the one you chose as your Mama!"
Morrison also posted a heartfelt message, sharing the photo below of him fist-bumping his little one, with the caption, "To my Newborn Child, Revel James Makai Morrison: Your Mama and Papa got this!! Trust in us to guide and protect you always. To lay the tracks so your choo choo train will run smoothly throughout this world."
Morrison and Puente got married back in 2014, and have embarked on many adventures together since, such as working to launch Sherpapa Supply Company, with the couple's friends, Zach McDuffie, a photographer, and his wife, Natazha McDuffie, who is also a model. And it was on the company's website that Morrison first announced his wife's pregnancy back in May.
Excitedly, Morrison wrote about his journey in discovering that he was going to be a father:
Now, at 38 years old, I feel that my life has been a huge success. More than I could have ever wished for, really. But my world has recently been turned upside down. I'm going to be a PAPA! My new vision of success is the child that I'm going to mentor in this world. I'm about to take on the greatest role I will ever play in my entire life!
And since then, the couple had clearly been enjoying pregnancy, with Puente sharing an adorable ultrasound photo of little Revel still in her womb. In captioning the photo, the 33-year-old model wrote about the overwhelming love she was feeling.
"What is this love," she wrote on Instagram, "these overwhelming feelings that make my insides want to explode!? I just had to share this lil pudge-munch's first headshot! Just the cutest." And now that Revel has arrived, it can only be assumed that the couple's updates of their new life with their previous baby will come more frequently. Or, we can hope, at least.
Because if we're being honest, Morrison was a pretty great teacher, leader, and father-figure as Mr. Shue on Glee, and while he's obviously a great actor, I'm going to go ahead and guess that he was channeling at least some natural paternal instincts. And now, he's able to sing his own perfect little baby to sleep every night, and that's pretty great.
Back in May, Morrison wrote on his blog about his own father and how he himself has a few scars from his relationship with his father that are continuing to heal to this day. But because of that, he has clear goals of the kind of dad he wants to be.
I will make mistakes, I won't always be there to hold their hand, but my children will know my deep heart and inner workings. They will know my true purpose, my essence, the soul of me. But most of all, they will know my undying and unconditional love that I already possess.
You may be only a week old little Revel, but it's safe to say you have some pretty great parents.
Watch Romper's new video series, Romper's Doula Diaries:
Check out the entire Romper's Doula Diaries series and other videos on Facebook and the Bustle app across Apple TV, Roku, and Amazon Fire TV.