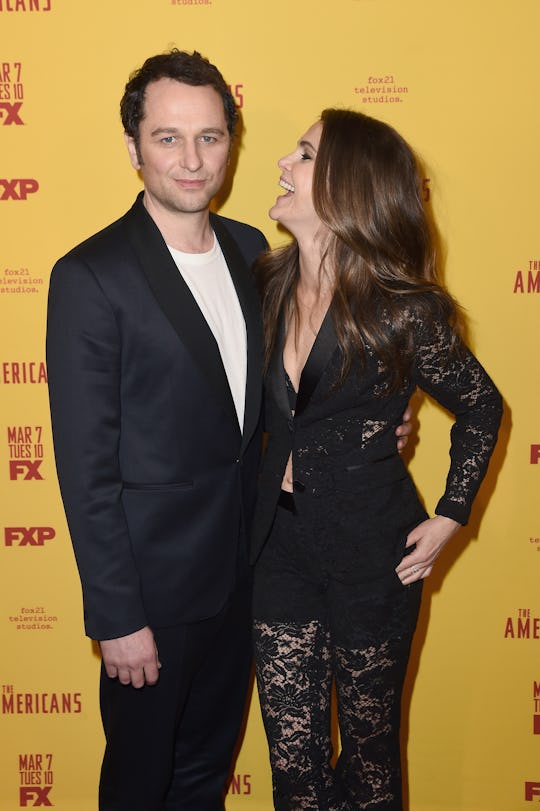 Nicholas Hunt/Getty Images Entertainment/Getty Images
Matthew Rhys Is *Not* The Laid-Back Parent
Anyone who has watched The Americans on FX — or even just seen the previews — knows that Welsh actor Matthew Rhys can be a bit, err, intense. And that intensity apparently translates offscreen as well. During an interview this week on Live! with Kelly, Rhys joked about fatherhood and his propensity to blow things just a tad out of proportion.
Rhys and fellow actor Keri Russell, who have been dating since 2014 and co-star in The Americans, welcomed Sam, their first child together, last May. During the interview, Rhys recounted a recent incident in which the 9-month-old had a cold. He told Russell that their son "has a very heavy cold, and we've got to take him to the doctor." Russell, in turn, said that she was "gonna get my hair blown out," and assured her partner, "you take him to the doctor, and when the doctor tells you he has a light cold, text me." Rhys confirmed that, indeed, it was just a light cold. He also referred to Russell as the "the reassuring hand" in the household.
Russell's comparative cool-headedness is perhaps not surprising, because while Sam is Rhys' first child, Russell has two children — River, 9, and Willa, 5 — from a previous relationship. Rhys seems to be catching up on the diaper quota, saying that he's "like a Daytona tire changer."
Rhys and Russell's relationship was first reported by People in April 2014, and ever since, fans have been interested in how the couple manage to maintain a relationship both onscreen and offscreen. The two play a married couple onscreen, and not just any old married couple — they're Russian spies in Cold War-era Washington. In a recent interview with Us Weekly, they confessed that they rather enjoy working together, thank you very much.
Rhys, 42, confirmed that they practice lines together in their Brooklyn home, and Russell, 40, called her partner "genuinely funny, one of the funniest people I know, and he makes really incredible sound effects." She added that the levity is especially appreciated on the set of The Americans, "because we're always doing really serious things [on the show.]"
Season 5 of the critically acclaimed series premieres on Tuesday at 7 p.m., and the new season is bound to feel more serious than ever, now that U.S.-Russia relations have been in the headlines. In a recent interview with USA Today, executive producer Joe Weisberg said "that has been a very unwelcome turn of events for us," because the show was conceived with the assumption that tension with Russia was part of a "bygone era."
Whatever the seriousness that Rhys and Russell encounter onset, it seems clear that they're able to relax when they go home — or, at least, Russell is.