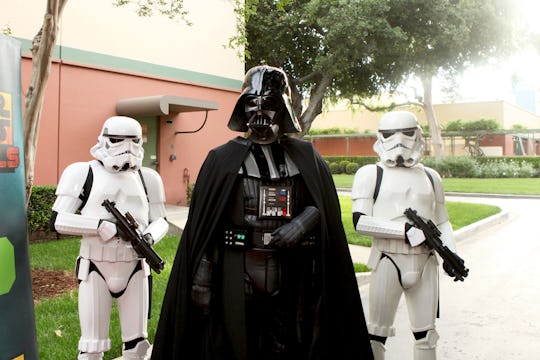 Matt Winkelmeyer/Getty Images Entertainment/Getty Images
May The Fourth Tweets That Will Make Any Star Wars Fan LOL
Happy Star Wars Day! Every May 4, Star Wars fanatics take to social media and their real life communities to bombard friends and family with the punny phrase, "May the Fourth be with you." (Get it??) Let me tell you from my own experience, people on the Internet are good with the Star Wars jokes (and corny one-liners in general, if I'm being honest). So, it's no surprise to me that the myriad of May the Fourth tweets currently flooding social media are laugh-out-loud funny. I'm just warning you.
Are you lost on the joke? Don't worry, its not too hard to understand. "May the force be with you" is a very popular and well known line from the Star Wars franchise. "Force" sounds incredibly similar to the word "fourth", so the play on words makes sense in a groan-worthy, dad-joke sort of way.
Twitter is the easiest place to find both in-depth, impassioned discussion of the epic Star Wars saga (Luke is definitely Rey's dad! Han shot first!) and hilarious jokes surrounding May 4, as fans and comedians, both amateur and otherwise, take to the social media platform to post their best Star Wars-related content — on one of the only days of the year where it is completely okay with everyone to make as many Star Wars jokes as possible.
In honor of the holiday this year, a large amount of retailers provided discounts on Star Wars themed merchandise, including shirts, toys, and those adorable remote controlled BB-8 models that you've always wanted to buy. Stores like Petco, Kohl's, Best Buy and Toys 'R' Us participated in the sale, which was great for Star Wars fans and moms with children who can't get enough of the series.
Celebrities also celebrated the holiday, including Broadway actor, composer, and Tony Award nomination record breaker Lin-Manuel Miranda of Hamilton fame. During the show's Ham4Ham pre-show, Miranda brought out The Force Awakens director J.J. Abrams to sing with Miranda. Miranda is no stranger to the Star Wars franchise, as he co-wrote the cantina song from the latest film.
There were some people, however, that were not as happy to celebrate the holiday, taking to Twitter instead to vent about their frustrations with hearing the phrase over and over again. But their venting was still relevant and still pretty hilarious and echoed the sentiments of all of those who felt like the joke had been repeated one too many times.
Whether or not you're a fan of the Star Wars franchise or just a lover of a good pun, May 4 is a great opportunity for all to prove that their Luke/Leia sibling jokes aren't that bad. Or something like that.