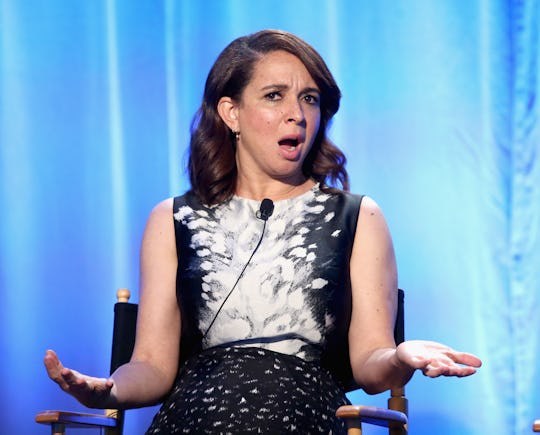 Frederick M. Brown/Getty Images Entertainment/Getty Images
Maya Rudolph Just Dropped A Truth Bomb About Being A Mom Of 4
Becoming a mother is full of surprises and Maya Rudolph's comments about motherhood this week totally sum them all up. On the red carpet of The Nut Job 2: Nutty by Nature on Monday, the Saturday Night Live star joked about how becoming a mother wasn't exactly something she could have ever imagined. The 45-year-old, who has four children with Paul Thomas Anderson, said people question the size of her family, since large families aren't as common these days.
"People look at me like I'm a weirdo. But I'm not," she joked. Rudolph added:
The triumph is the people that love each other. I mean, I feel lucky having — I never imagined I'd have four kids — that was never the goal. I feel really lucky that everyone is healthy and amazing.
The comedian added that it's not always fun, in the most common sense of the word.
"It's endless stuff. It's endless entertainment, it's endless stress, endless responsibility. Everyone's at different ages and levels, everyone's into different stuff. But everyone is into slime," Rudolph said. Truer words have never been spoken: what human being doesn't like a little slime now and again? Age has nothing to do with it.
But it wasn't all jokes on the red carpet about being a mom — she had some super sweet things to say about her kids, too.
Although she never thought she'd have such a huge family, the actress said of motherhood, "I always say it's like this extra layer of life you never knew about." Preach.
That doesn't mean she doesn't get totally sick of her kids sometimes, which is totally normal. Rudolph said that "alone time" is pretty much impossible, as it is for pretty much every parent. But it's also weird when there's too much alone time.
"I gotta say, those moments after you have kids when you come home and they're not there, it feels weird," she said. Ah, yes, the conundrum of being a mom.
Despite missing her kids when they're gone, that doesn't mean she and Anderson don't try to carve out time for date nights. Most recently, they spent a night in Vegas for a show.
"It was really cool because we went to bed and were like, 'That's it.' No one's coming into bed at one in the morning, crying or have peed," she joked about those blissful hours of uninterrupted sleep that most parents don't get until everyone's all grown up.
Motherhood is always a complex mix of emotions and feelings all the time. Somehow, Rudolph managed to simply sum all of them up on the red carpet this week, likely speaking for all kinds of moms everywhere.